Karnataka Chief Minister Basavaraj Bommai and Niti Aayog Vice-Chairman Rajiv Kumar Give Away Awards
BENGALURU: Chetak Foundation, CSR Arm of Chetak Logistics, the leader in automobile logistics has been recognized and won the India CSR Award in the Skill Development Category, at a momentous occasion of the 12th India CSR Summit and awards held on December 10, 2021, at Ritz Carlton, Bengaluru. 
Sachin Haritash and Arun Arora, Director Chetak Foundation received the award from Basavaraj Bommai the Hon'ble Chief Minister of Karnataka and Dr. Rajiv Kumar, Vice Chairman, Niti Aayog, in the presence of Padma Shri Mohan Das Pai, Chairman Manipal Global Education; Mrs. Kiran Mazumdar Shaw, Chairperson Biocon; Prashanth Prakash, Partner Accel and Advisor (Policy & Strategy) to the CM of Karnataka and Rusen Kumar, Founder of India CSR.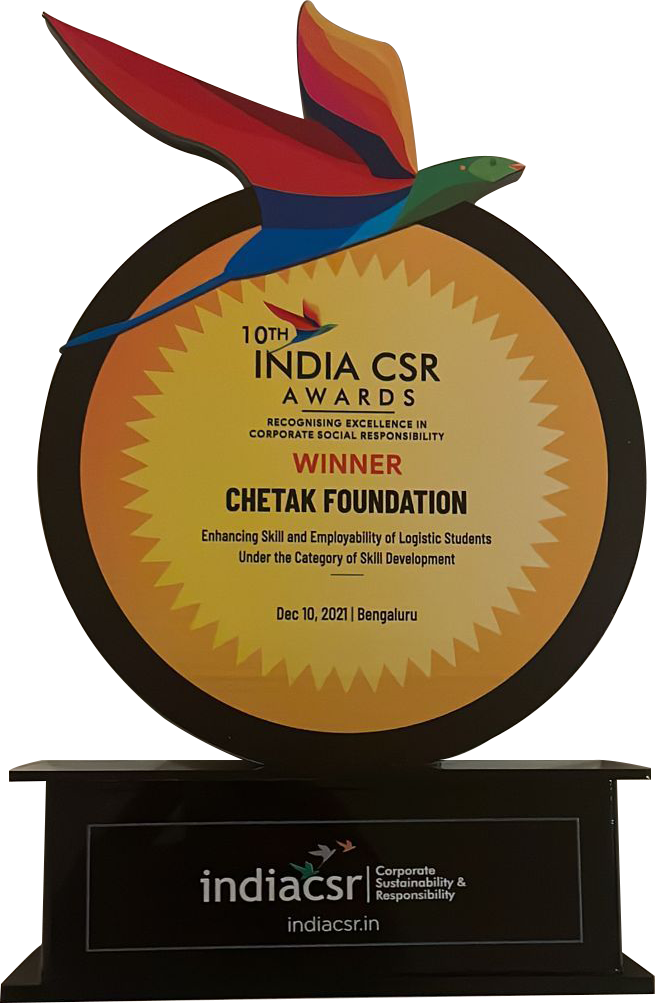 Chetak Foundation was lauded for its performance in the area of Skill development and employment generation. Chetak Foundation has partnered with Delhi Skill and Entrepreneurship University (DSEU) with a shared vision of equipping students with world-class skill education and enhancing their employability. Under an MoU, Chetak Foundation and DSEU are jointly developing a course curriculum for Logistics and Transportation Courses.
Speaking on the occasion, Sachin Haritash, Director, Chetak Foundation said, "We are delighted to have been acknowledged and bestowed with India CSR Award in the Skill Development category for Chetak Foundation, that we set up as a tribute to our father Shri J K Sharma, Founder Chetak Logistics to take his legacy forward. The credit for the recognition goes to the entire Foundation team which has been working tirelessly towards a common goal of making a difference in the lives of underprivileged"
Backed by Chetak Group with its huge expertise in Logistics, Chetak Foundation is helping DSEU in enriching the curriculum design of Logistics and Transportation courses to make students better prepared to enter the industry. To take the vision of Chetak Group Founder Shri J K Sharma forward, Chetak Foundation has also set up 'Jai Krishna Scholarship' to help students of Below the Poverty Line and 'Jai Krishna Logistics Awards' to recognize the DSEU students who will provide innovative solutions in the logistics domain.
Rusen Kumar, Founder of India CSR shared, "We are happy to conduct 12th India CSR Leadership Summit and 10th India CSR Awards. After a rigorous assessment carried out by a highly credible jury, we are happy to announce the India CSR Award for 'Skill Development' to Chetak Foundation, for its exemplary work and vision to enhance the employability of youth, in association with DSEU."
The Chetak Foundation has decided to focus on broad areas including Education, Livelihood, Health, safety, and Environment. The Foundation has rolled out amazing schemes to take its mission forward like Poshan Plus (Hunger alleviation and Nutrition), Swasthya Plus (Health & Fitness), 'Siksha se Rozgaar' (Education to Livelihood), Zindagi Plus (Road safety), Oxygen Plus (Environment protection), and Sahayata Plus (Disaster/Emergency support).
Recently the Hon'ble Union Minister for Home, Shri Nityanand Rai rolled out Chetak Foundation's debut event, Poshan Plus, wherein the Foundation felicitated over 1000 drivers and Covid front-line workers in association with Sir Ganga Ram Hospital and shared high-quality dry ration with them. The Foundation has also associated with credible organizations like Delhi Metro, Indian Oil Corporate, DSEU, Vision Foundation and CRPF for its projects.