By Rusen Kumar
MUMBAI: Despite experiencing extraordinary business downturn over the past years and continuous losses, the US$ 37-billion Tata Motors Group continued its commitment to serve the national interest by allocating unprecedented funds for Corporate Social Responsibility (CSR). The total CSR expenditure of Tata Motors reported in FY 2021-22 is Rs. 23.69 crores. Key program areas of the companies are – Health, Education, Employability, and Environmental development.
A total of 7,91,298 people benefitted through TATA Motors CSR programs in FY 2021-22, with a spend of Rs. 23.69 crores, in which 311,067 beneficiaries (40% of the overall CSR outreach) belong to SC and ST communities.
Tata Motors, one of India's leading automobile manufacturing companies with an extensive range of integrated, smart and e-mobility solutions in its portfolio, has delinked its CSR programmes and budgeting from the being applicable solely as per section 135(5) of the Companies Act, 2013 and hence the Company continued to support all CSR activities despite a loss during the last couple of years.
"CSR spent by Tata Motors Ltd on a standalone basis excluding interest in the joint operations, towards various schemes of Corporate Social Responsibility (CSR) as prescribed under Section 135 of the Companies Act, 2013, the company's annual report said.
"The organisation believes in building a society that is inclusive and supportive of the innate potential of its people.", the company said.
The total CSR spend for FY20-21 was Rs. 23.99 crores and positively impacted over 7.5 lakh lives.
CSR Spending for the Last 5 Years
| | |
| --- | --- |
| FY | CSR Amount Spent |
| 2017-18 | Rs. 21.43 Cr |
| 2018-19 | Rs. 22.4 Cr. |
| 2019-20 | Rs. 22.91 Cr |
| 2020-21 | Rs. 23.99 Cr. |
| 2021-22 | Rs. 23.69 Cr. |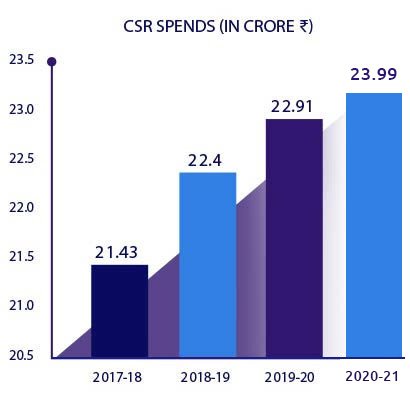 Affirmative Action
Tata Motors has leveraged its sectoral expertise, a dense network of business associates in the value chain to positively impact the lives of most vulnerable sections of the community. Its unique approach of More from Less for More Philosophy underpins innovative aggregation from all the stakeholders.
Tata Motors mobilised the resources majorly through partnerships and collaboration for its project. Over the years, It has been working extensively with underprivileged communities, especially in the vicinity of its plants. As these are located near both rural and urban areas, the CSR programme has progressively developed to better serve their evolving needs. The scope and depth of company's engagement for their holistic well-being has consistently increased along with the resource allocation and capital outlay to support this expansion.
Tata Affirmative Action Programme
Tata Motors has been at the forefront in implementing the group-wide initiative Tata Affirmative Action Programme (TAAP) – branded as 'Aadhar', aimed at ensuring equity for the economically and socially disadvantaged sections of society, i.e., Scheduled Castes and Scheduled Tribes (SC and ST), women and disabled persons. In FY22, Tata Motors was awarded the Jury Award for highest scoring company in the Annual Assessment of Company's AA performance at the Group level. The Company has committed 40% of the CSR resources both, financial and human (beneficiary), to these AA communities. Apart from ensuring a due share in the CSR interventions, positive discrimination is practiced against these communities in the Company's employment and its value chain, the company said in its annual report for FY 2022.
Lives impacted through CSR initiatives (Nos.) –
| | |
| --- | --- |
| FY | No. of Beneficiaries |
| 2019-20 | 7,63,600 |
| 2020-21 | 7,58,053 |
| 2021-22 | 7,91,298 |
CSR in India has very recently undergone a metamorphosis to acquire a legal mandatory character under 'The Companies Act, 2013 and associated Companies (CSR Policy) Rules 2014'. Whilst aligning to this new legal framework, Tata Motors has evolved its CSR framework comprising a five-year CSR Strategy and Roadmap, Policy, Guidelines and Annual Plan based on reflections and learnings.
The CSR programs and projects are deployed by the Company through reputed, external non-profit organizations, and through its company-promoted societies/NGOs. Partnership and collaborations play a pivotal role in deploying the CSR program.
The Company has endeavored to strike a fine balance between CSR projects having a 'strategic business-CSR connect' (for leveraging the company's and its ecosystem's core strengths and competencies) and 'doing the right thing' (addressing pressing needs of the local community and this may not necessarily have a business connect).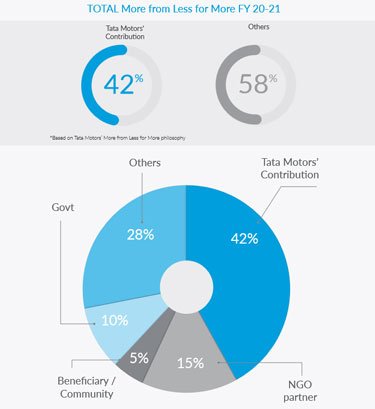 Social Returns on Investment
To understand the relevance, utility and impact of its CSR projects, the Company has proactively and voluntarily adopted an evolving Impacts Assessment Framework known as Social Returns on Investment (SRoI). The institutionalisation of the SRoI framework across Tata Motors locations for key CSR projects has been undertaken in 2015 and 2016 resulting in five more CSR projects evaluated for SRoI.
The Tata Motors' Corporate Social Responsibility Committee formulates and recommends the CSR policy to the Board and monitors the CSR budget, activities and expenditure.
Community Engagement
"We account for the needs of the community especially those from socially and economically backward groups, National priorities and UN Sustainable Development Goals – when developing our CSR policies and strategies.", the company said.
All CSR initiatives are harmonised pan-India through a Common Minimum Programme (CMP), while at the same time the Company has built agility and flexibility into its CSR initiatives via Location Specific Projects (LSP) which encourage 'holistic engagement' in the entire spectrum of the ecosystem.
Guiding Principles
Harmonized CSR across locations
Ensure Common Minimum Projects.
Enable Location-Specific Projects.
CSR spends % and recommended radial distance from business operations.
A major portion of funds were spent on the CSR programmes which are deployed in the project mode and are part of our Common Minimum Programmes (CMP) and Location Specific Programmes (LSP).
70% within 20 kms
20% between 20 – 50 kms
10% beyond 50 kms
More from Less for More (MfLfM)
Multi-stakeholder partnerships
Leverage expertise, network, and resources
Frugal innovations and use of technology
Enhanced self-sustainability of CSR projects through
Greater community ownership
Participation
Explore CSR-business connect
Sustainable and scalable
Harnessing the potential of the company's ecosystem
Since its formation 152-years ago, the Tata Group has served as the custodian of public good, living upto its mission to address the world's most urgent needs. With 'Responsibility' as a core value and ensuring what comes from the people goes back to the people many times over, as the guiding principle of its business conduct.
(Graph Source: Tata Motors)
---
The Author
The article is authored by Rusen Kumar, India CSR.