Lying in the south of Uttar Pradesh, on the banks of the holy River Ganga, breathes Varanasi (also known as Banaras or Kashi), which is believed to be the oldest living city in the world. For centuries, the mystic of this place has been attracting pilgrims from across India as well as abroad.
A dwelling of ancient domes, maths, ashrams, priests, narrow lanes with shops filled with Banarsi sarees, Varanasi represents the colorful and fascinating India. Over a period of time, the city has evolved from a site of pilgrimage to a place rendering conducive eco-system to the industries having grown as an important industrial centre famous for its production of silks and brocades with gold and silver threadwork, as well as for wooden toys, bangles made of glass, ivory work, and brassware.
With such abundance of resources and potential, Kashi is being seen as one of the model districts in terms of holistic development, especially Varanasi being the constituency of Prime Minister Narendra Modi for past 6 years now since 2014. However, most of the villages in the district are still facing development constraints, such as access to education, health facilities, drinking water, power, roads, credit, information and market.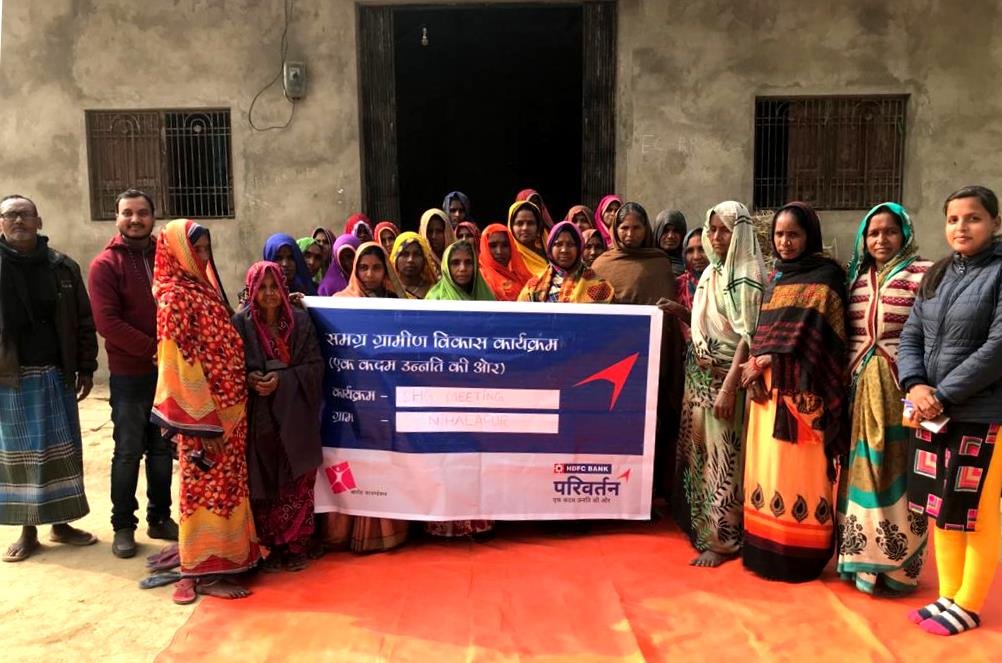 AROH Foundation and HDFC Bank, under the Holistic Rural Development Project "Parivartan", have adopted 15 villages in Pindra block of Varanasi. Adoption of poor and needy villages of Varanasi by the capitulating collaboration of ground experts like AROH Foundation, having two decades of expertise in raising human development index and development leaders like HDFC Bank through a strategic development model would go a long way in ensuring holistic and integrated development in these villages.
The objective of the project is to develop the adopted villages into self-sustaining model villages. This includes raising physical, socio-economical index for an estimated population of 22,610 and improving the village eco-system. Prime focus is to enhance human capital by providing better opportunities in skills and livelihood, Education, Health and Sanitation, Water and Natural Resource Management, Financial Literacy and Inclusion and realignment and community-led institutions.
The project Parivartan inculcates an organic approach to recycle and rejuvenate existing resources, create FPOs, SHGs, JLGs, linkages & convergence to create synergy to develop villages into self-sustaining entries models. The project adopts a bottom up approach with adequate focus on micro-planning through participatory approach ensuring involvement of different stakeholders in the development process, which eventually also ensures sustainability of the impact.
Besides bringing a positive transformation in people's lives, the project is a step to support the Government in achieving the national goals of Doubling Farmer's Income, Swachh Bharat Mission, Make in India, Beti Bachao- Beti Padhao, etc., while also contributing to the UN Sustainable Development Goals.
The aspiration for self-reliant development at the village level began with the Gandhian model of swaraj. The baton is further taken over by our Prime Minister Mr Modi reiterating from the Red Fort that, "our nation's development starts and sustains in development of our villages." Working in alignment with his vision, this program shall be an unfeigned attempt to transform rural areas into economically, socially and physically sustainable entities, which would trigger overall development in the region.
AROH Foundation has been running rural development initiatives in several states in more than 500 villages across the nation. The recent upheaval caused by the COVID pandemic, has thrown further development challenges before the nation. It is imperative to undertake interventions such as Parivartan, with renewed energy and vigor by converging efforts of all stakeholders and optimizing resources for an effective outcome.
In this context, convergence with the Government schemes to tap into the phenomenal allocation of 15.80 lakh crore in Budget 2020 to the state of UP can lead to a promising future for the State's villages. The need of diligence, expertise and cohesion between civil societies, NGOs, administration and political will shall certainly take the train on track.