Kanpur: B B G T S Murthy, Kanpur Traffic Commissioner formally rolled out Chetak Foundation's Zindagi Plus Road Safety initiatives. The Commissioner distributed the first lot of customized helmets to men and women members of Kanpur Traffic Police on two-wheelers to enhance their safety on the road, at an event held at the Commissionerate, in the presence of Chandan Agarwal, Sachin Haritash, Arun Arora, Directors, Chetak Foundation, its Advisory Board Member Madhurendra Sinha a veteran journalist and Rajeev Talreja, a Kanpur based renowned business entrepreneur.
Chetak Foundation's Zindagi Plus initiative will distribute over 1000 helmets to the two-wheeler riders in the first phase of its Road Safety initiative. It may be noted that Indian roads continue to see Lakhs of road accidents and thousands of fatalities, a majority of them being two-wheeler riders.
Chetak Foundation, CSR arm of Chetak Group, the leader in Automotive Logistics in India, has thus decided to address this grave area of concern.
Speaking on the occasion, Kanpur Traffic Commissioner B B G T S Murthy said, "We are glad to note that Chetak Foundation has come forward to support the government's efforts to enhance safety on roads by distributing helmets to two-wheeler riders, starting with Traffic Police.
It is heartening to begin the noble campaign with traffic police, as it will not only ensure their safety, it will also help them lead by example. We hope many more corporates and foundations join hands in such a noteworthy initiative."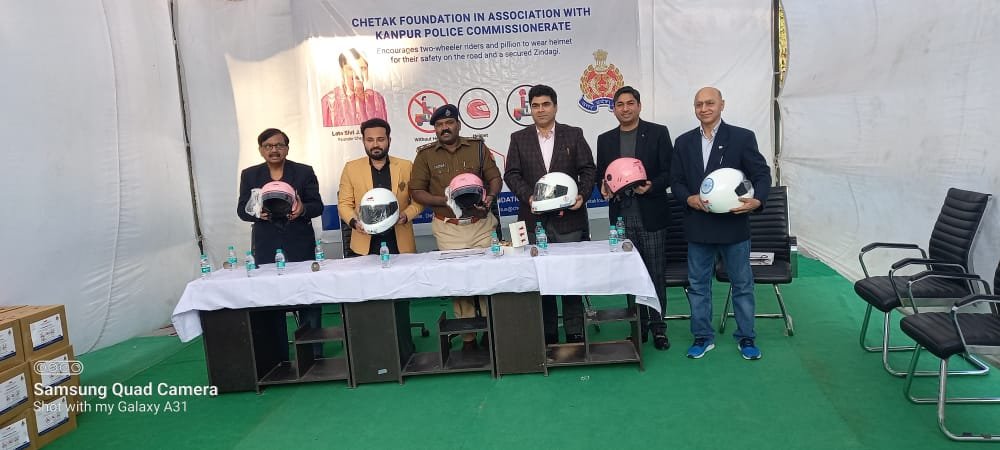 Chandan Agarwal, Director, Governing Board, Chetak Foundation said, "Chetak Foundation has always endeavoured to make a positive impact on the lives of underprivileged communities. We are really happy that the Traffic Commissioner has blessed our initiative to personally distribute the first set of helmets to the role models traffic Police. Commissioner's progressive and proactive gesture will encourage us to work with even greater vigour to make Kanpur Road safer. We strongly urge two-wheeler riders to always wear helmets for a Secured Zindagi"
Chetak Foundation focuses on broad areas including Education, Environment, Health, Livelihood and Road Safety, in the logistics space and public at large in the related domains.
Chetak Foundation has conceived specific interventions to enhance beneficiaries' experience. Some of these include Oxygen Plus (an environment initiative), Swasthaya Plus (a Health initiative), Shikha Plus (an Education initiative) and Zindagi Plus (a Road Safety Initiative).