Gurgaon (India CSR): Chetak Foundation in association with VisionSpring and Honda Motorcycle & Scooter India (HMSI) launched a road safety campaign by setting up an eye check-up camp and providing free spectacles to drivers to enhance safety on roads. Ajay Bora, General Manager – Logistics, HMSI, Reetesh Srivastava, General Manager – Commercial, HMSI, Sachin Haritash Trustee Director Chetak Foundation and Rajan Kumar, Director Programs Director Programs inaugurated the camp in the presence of Arun Arora, Head and Director Governing Board, Chetak Foundation, Madhurendra Sinha, Director Advisory Board, Ms. Swati Agarwal, Senior Lead, VisionSpring and senior members of HMSI team.
The initiative is an effort on the part of three partners to acknowledge and recognize the hard work and contribution of drivers towards the growth of the logistic sector in India and their role in nation-building. Eye check-up was carried out for more than one hundred drivers who attended the camp and free spectacles were provided to those who required vision correction.
Speaking on the occasion, Yadvinder Singh Guleria, Director – Sales & Marketing, HMSI said, "Vision accuracy remains the first step towards ensuring road safety for all road users. We are glad that Chetak Foundation has identified this critical area and organized an eye-check up camp for truck drivers, in partnership with VisionSpring. This timely initiative is in line with our values which strongly focus on road safety. We hope this initiative inspires many organizations to come forward for such a noble cause. Our best wishes to the Chetak Foundation for their social endeavours."
Chetak Foundation is the CSR arm of Chetak group, a leading player in logistics, in India. The Foundation has been set up as a tribute to Chetak Group's Founder Chairman Late Jai Karan Sharma and to work on improving the quality of life for underprivileged communities in the logistic space in the domains of Road Safety, Environment, Health & Nutrition, and Education.
Sachin Haritash, Trustee Director, Chetak Foundation said, "We are delighted to build upon the shared vision of Chetak Foundation, HMSI and VisionSpring for enhancing road safety by setting up an eye-check up camp for drivers. This will help in their vision correction and thus make them better prepared for employment, productivity and safety. Our father Late Shri J K Sharma created livelihood opportunities for thousands of people and was passionate to help the underprivileged people in the society.
"We would like to convey our appreciation to Mr. Yadvinder Singh Guleria, Director – Sales and Marketing, Mr. Ajay Bora, General Manager – Logistics, Mr. Reetesh Srivastava, General Manager – Commercial and the entire team of HMSI for their determination and support to ensure a better vision for drivers, thereby enhancing their safety on the road," he added.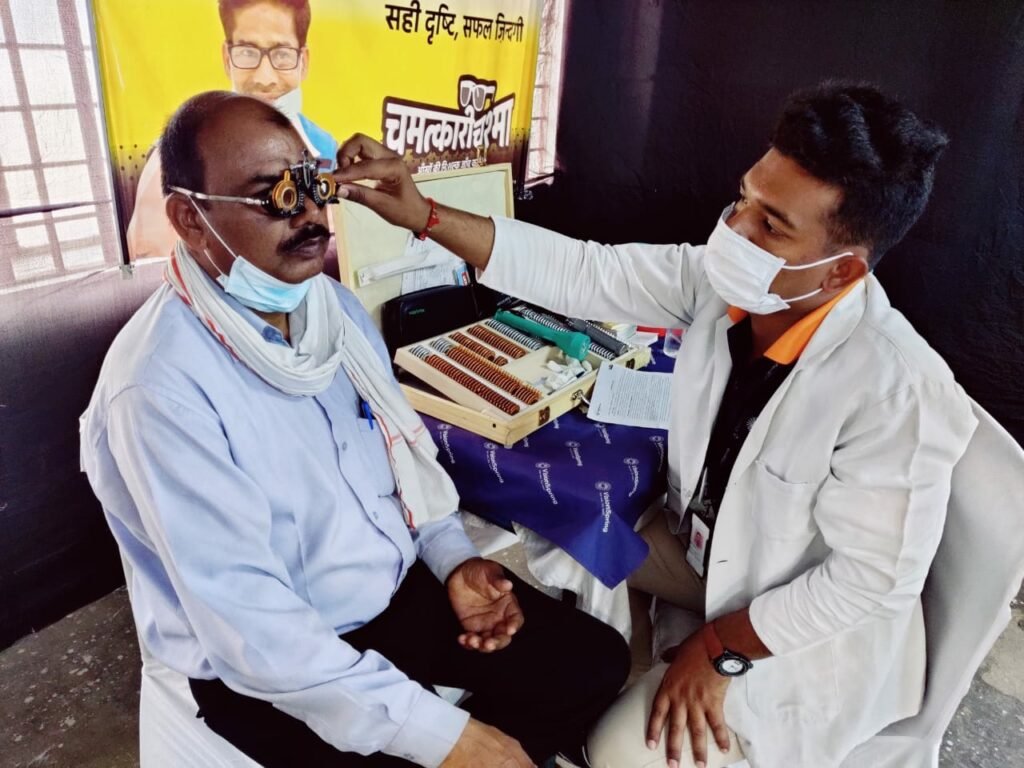 The Chetak Foundation has rolled out amazing schemes to take its mission forward. Poshan Plus (Hunger alleviation and Nutrition), Swasthya Plus (Health & Fitness), 'Siksha se Rozgaar' (Education to Livelihood), Zindagi Plus (Road safety), Oxygen Plus (Environment protection), and Sahayata Plus (Disaster/Emergency support).
Recently the Chetak Foundation was bestowed with the CSR India Award for Skill Development and CST Times Award for its Health Initiatives during Covid. The Foundation distributed high-quality sanitization kits to thousands of Covid front-line workers.
Besides HMSI, Chetak Foundation has also tied up with Delhi Skill & Entrepreneur University, VisionSpring, Sir Ganga Ram, Max & Fortis Hospitals, Delhi Metro, IOCL, Haryana Government and CRPF for its health, nutrition, environment and road safety projects.
Established in 1979, Chetak Group takes pride in its long-range strategy of providing comprehensive logistics solutions to its customers. Equipped with its own 2 Lakh sqft modern warehousing facilities, across India, the Group provides Total Supply Chain Solutions including Transportation Services through all modes, Warehousing & Distribution, International Freight Forwarding, Customs Clearance & Logistics Services.
The group, located in Delhi, the national capital, has 60 offices and branches spread across India at major industrial hubs, to provide effective solutions to its customers.
Chetak Group is known for its 'On-time performance and Quality Service leading to an impressive clientele of industry leaders in automobiles since its inception. These include all major national and global automobile brands such as Maruti Suzuki, Tata, Hyundai, JCB, Kia, Honda, among many others.