National Youth Day, 12 January 2022
By Dr. Neelam Gupta
The novel coronavirus has been devastating, to say the least. India had its GDP contracting 23.9% in the first quarter of the financial year 2020-21, the lowest in 24 years. The adverse effects of the pandemic have been essentially skewed against the youth (15-29 years) as they face a trilemma of drastic unemployment, disruption in education, and also a return to domestic work for girls from disadvantaged backgrounds.
The Indian youth that constitutes a sizable chunk of the country's employable workforce faced several challenges in a stressed labour market. Data from the Centre for Monitoring Indian Economy CMIE's Consumer Pyramids Household Survey reveals that youngsters (20-24 years) accounted for 8.5% of the total employed persons in the country, in 2019-20. However, they accounted for 11% of those who lost jobs. Over 1.3 crore youngsters lost their jobs in the lockdown.
Another 1.4 crore jobs were lost in the age group of 25-29 years. Women were disproportionately affected, accounting for 38.9 percent of total employment before the Covid-19 crisis but making up 47.6 percent of employment losses in 2020. In a country with the highest demographic dividend and almost half the population under 25, young people are paying a disproportionately heavy price during and post-pandemic crisis for sure in India!
Indeed the suggested numbers are alarming, but there is always a blessing in every disguise. To avoid exacerbating intergenerational inequalities and to involve young people in building societal resilience, the Indian Government has been acting proactively to mitigate the impact and implement instant recovery measures across different age groups, by applying effective governance mechanisms.
As an emergency short-term solution to the youth gone into oblivion with the pandemic and its subsequent repercussions, the government has initiated a loan relief package, deferring the loan repayment for unemployed graduates by at least two years. The second farsighted step was on ramping up our skills training and vocational training initiatives. While India is struggling to find employment for its youth, companies are struggling to find people with the right skills. The government of India has shown a promising paradigm change in its education model through NEP 2020, trying to maintain low unemployment rates with Vocational Education and Training (VET) programs inculcated within the curriculums.
In the long term, we need another paradigm shift in our education system, where they need to emphasize critical thinking, creativity, communication skills, and emotional skills (EQ). Our rural education centers lack quality, as suggested by the ASER report, only 25% of children enrolled in Class V could read simple English sentences, and only 26.1% of children enrolled in Class V could do basic arithmetic.
There are several inspiring ways in which youth-led enterprises are innovating to support their communities to combat coronavirus and improve the situation. While youth are carving their path amidst the crisis, the government has also facilitated the support through any means. Adding efforts on liquefying more FDI in India, and launching a 'Startup India' campaign, the government again is showing promising and effective efforts to promote entrepreneurship models in India. This shall allow innovative thinking, a business-led model for youth, who otherwise are stuck on seeking employment from organizations.
India has faced the COVID-19 situation with fortitude and a spirit of self-reliance that is evident in the widely appreciated example of how from zero production of Personal Protection Equipment (PPE) before March 2020, India today has created a capacity of producing 2 lakh PPE kits daily, which is also growing steadily.
Additionally, India has demonstrated how it rises up to challenges and uncovers opportunities therein, as manifested in the re-purposing of various automobile sector industries to collaborate in the making of life-saving ventilators. The clarion call was given by the Hon'ble PM to use these trying times to become Atmanirbhar (self-reliant), Vocal for Local has been very well received to enable the resurgence of the Indian economy.
In a recent address in a post on LinkedIn, PM Shri Narendra Modi's, appealing for developing business models that attach primacy to the youth, said, "India, a youthful nation known for its innovative zeal, can take the lead in providing a new work culture. Rather than playing catch up, India must be ahead of the curve in the post-Covid-19 world. Let us think about how our people, our skill sets, our core capabilities can be used in doing so."
The opportunities are rising. As per one of the media reports, approximately 1000 foreign firms are viewing India as an alternate manufacturing hub, considering huge skilled manpower, cheap resources and manufacturing costs available. Industry dynamics are also turning favorable to India. This is an optimistic scenario based on India's resilience to the pandemic so far, its young population, and the availability of manpower at all levels, all of which might drive growth for a lot of industries. The government has also already the upfront task of coming up with a stimulus to start-ups and MSMEs (Micro, Small and Medium Enterprises) which will play a crucial role in reviving the economy.
The government and nonprofits are urging people to reskill and upskill themselves to find new jobs as per the new post-Covid scenario. This shift shall be imminent. An accidental by-product of the lockdown is that digital adoption has increased multifold in India. Physical barriers, infrastructural maintenance costs are reduced, experts and skilled manpower are available at clicks, women back from maternity leaves have a golden chance to re-initiate their careers, It's a one-world connected by a single click now. COVID-19 has, therefore, created huge scope for a paradigm shift in youth employability and empowerment. It's no more employment-seeking game now, India is betting on the employment-generating side now.
About the Author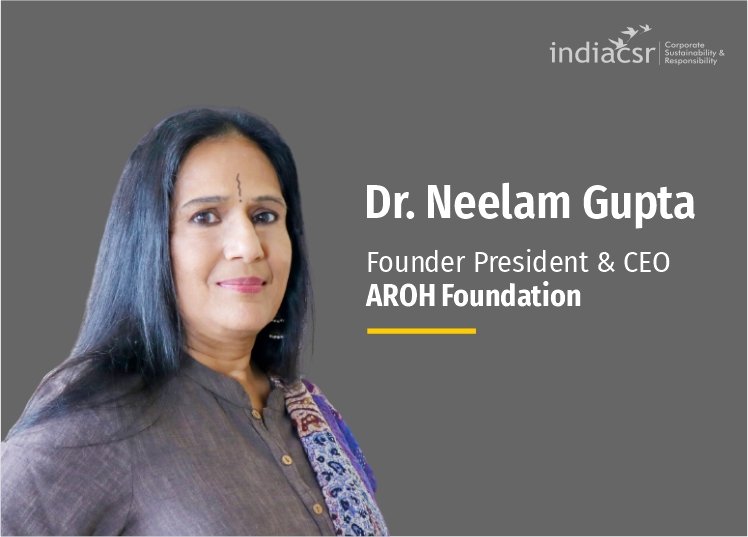 Dr. Neelam Gupta Founder President and CEO, AROH Foundation