I attended the NASSCOM CSR Conference in Delhi on April 8, 2019, and during the STEM panel discussion, I asked a very pertaining question to everyone! Why are Maths not given the same importance as Technology and Science?

Mathematics is important for humans in every domain of their lives. The small kids in their school start learning mathematics and calculations because it will be useful in their professions irrespective of its scale and area. Mathematics is the backbone of scientific experiments and innovations, whether it is physics, chemistry, astrology, etc. Mathematics and science cannot be mutually exclusive. Mathematics is a fundamental requirement for modern education, and imparting education will be only successful if we build a strong base in mathematics education. The youth is facing challenges in employment or doing the business properly due to weakness in mathematics education at primary, secondary or higher levels. Mathematics education is fundamental to the development of a child into an educated citizen. It belongs to the proper functioning of the brain and also analytics.
Importance of Mathematics
Mathematics and science education is the fundamental right of every human being. A human cannot explore its potential if deprived of mathematics and science education. Mathematics helps develop problem-solving attitude and analytics skills. Mathematics education can play an important role in strengthening democracy. Mathematics education can play a significant role in developing spirit of inquiry and spirit of questioning, which is the fundamental duty of the citizens.
I firmly believe that mathematics is an essential and fundamental subject taught in primary school. Mathematics is a necessity not only for overall academic survival but also for social survival. Mathematics is not just an educational requirement, but it is a requirement of humanity. A developing nation like India has been facing lots of social problems because mathematics education has not been given due importance. At school level it has been mostly rotted learning, cramming the formulas and achieving the results. Society and nation have the responsibility of imparting quality education to its citizen. Quality of education must be measured on the quality of mathematics education. Making mathematics education accessible to every child is a massive challenge for the government too.
Promotion
Mathematics education must be promoted, popularised, encouraged though series of interventions by government, civil society, corporate and citizen at large.
Citizens Participation
Citizens should talk, discuss and deliberate on how mathematics education can be made readily available to children and schools.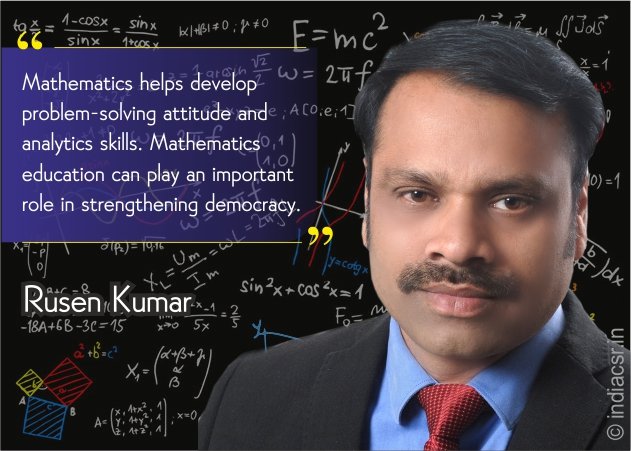 Innovation
We need an environment where innovative models for mathematics education can be promoted and implemented. Scientists and mathematicians need to develop innovative models for understanding the application of mathematical models.
Role of Teachers
It is also a hard fact that India is lacking in producing enough number of quality mathematics teacher. It is a big challenge of India education ecosystem. The reasoning of application of different branches of mathematics like algebra, geometry, and trigonometry is not clear to the students as well as teachers. The practical use of mathematics in the various domains should be taught to the teachers first.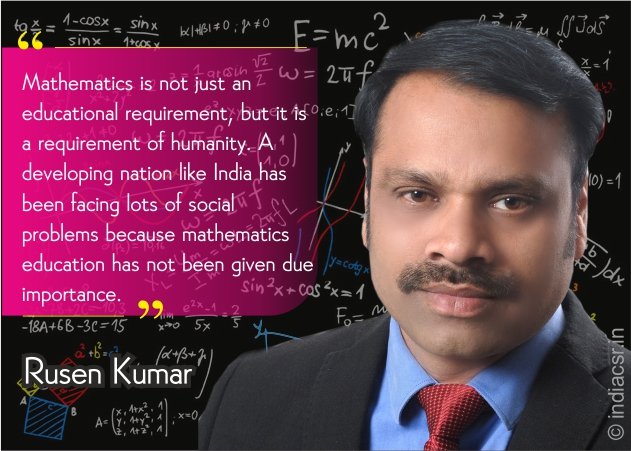 Role of Government
The large portion of Indian population lives in villages, and quality mathematics education should reach every school in the communities. India needs revolutionary and large scale programmes on mathematics education to make available to schools of every corner of the nation. Central and state governments run the schools even in the remotest locations and have the most significant infrastructure as well as a pool of teachers too. The issue is familiar to most of the underdeveloped and developing nations across the globe. With the contributions from ministries, universities, and departments, coordinated efforts may bring substantial change in the situation. We hardly find any focused program or plans by political and social leaders, government officials or academicians promoting mathematics education.
Role of Corporate and CSR
Corporate can play an important role in revolutionising of mathematics education in India. Almost every corporate under their Corporate Social Responsibility programme is running programs on education at various levels. The corporate having strong managing skills and outcome-based projects can bring significant changes in the domain. Corporate sponsored research and development projects may bring out new models for analytical skills and application-based learning in the students. Corporate Social Responsibility education program must have proper attention on mathematics education for better outcomes. Corporate should come forward to start special awareness educational program on mathematics education in schools, especially for the rural part of India. Teacher training and awareness programs are also crucial for the success of the mission of quality mathematics education.
(Rusen Kumar is the visionary entrepreneur, author and founder of India CSR Network and CSR Mart, regularly writes on Corporate Social Responsibility.)
Views are personal.
Terms & Conditions: India CSR Network does not permit other Websites/Agency to copy or reproduce or reprint the above article/feature in any form or means.