Sometimes there are news stories that are not breaking news or trending, but are all the more powerful because they are positive news stories. Like this following story, where one individual is a real hero, making a difference – Rahul Deshmukh is a change maker, creating a ripple effect at local level in India. The son of a poor farmer, from a village in the state of Maharashtra, Rahul as a boy was a bright student, doing well at school, with a dream of going to college, if it was not for one thing…his visual disability, which stood in the way of finding a college hostel that would take him. Instead due to circumstances, Rahul was forced to live a few days on the nearby railway platform. This experience inspired him to set up SNEHANKIT, a centre for rehabilitation of the visually impaired in 1999, which grew into National Association For The Welfare Of Physically Challenged (NAWPC) in 2008.
Today NAWPC has grown into a well-established organization, hosting an array of activities from medical camps, to training in English and music; to coaching for banking jobs; and providing financial aid to the vulnerable.
When the Brail script was invented by Louis Brail in the 18th century, it was a lifeline for the visually impaired. However, now with the onset of the digital era, Rahul knew that he needed to invest and develop computer training, making it available for others like him. This led Rahul to set up NAWPC's most ambitious and innovative initiative, which was to create a Computer Training Centre for the visually impaired. The first of its kind in Pune and in the state of Maharashtra.
Rahul made a conscious effort to create an awareness of the importance of computer literacy among the students and their parents. His insistence on the need of acquiring computer training, which he calls 'the third eye'. This has meant the visually impaired students here are in a position to seek employment in banks, industry and the educational sector. Rahul has extended the facility to the physically disabled, that includes the deaf and the mute. His creative concern reached its height when he set up a barrier-free residential unit with a well-equipped digital library and recreation centre.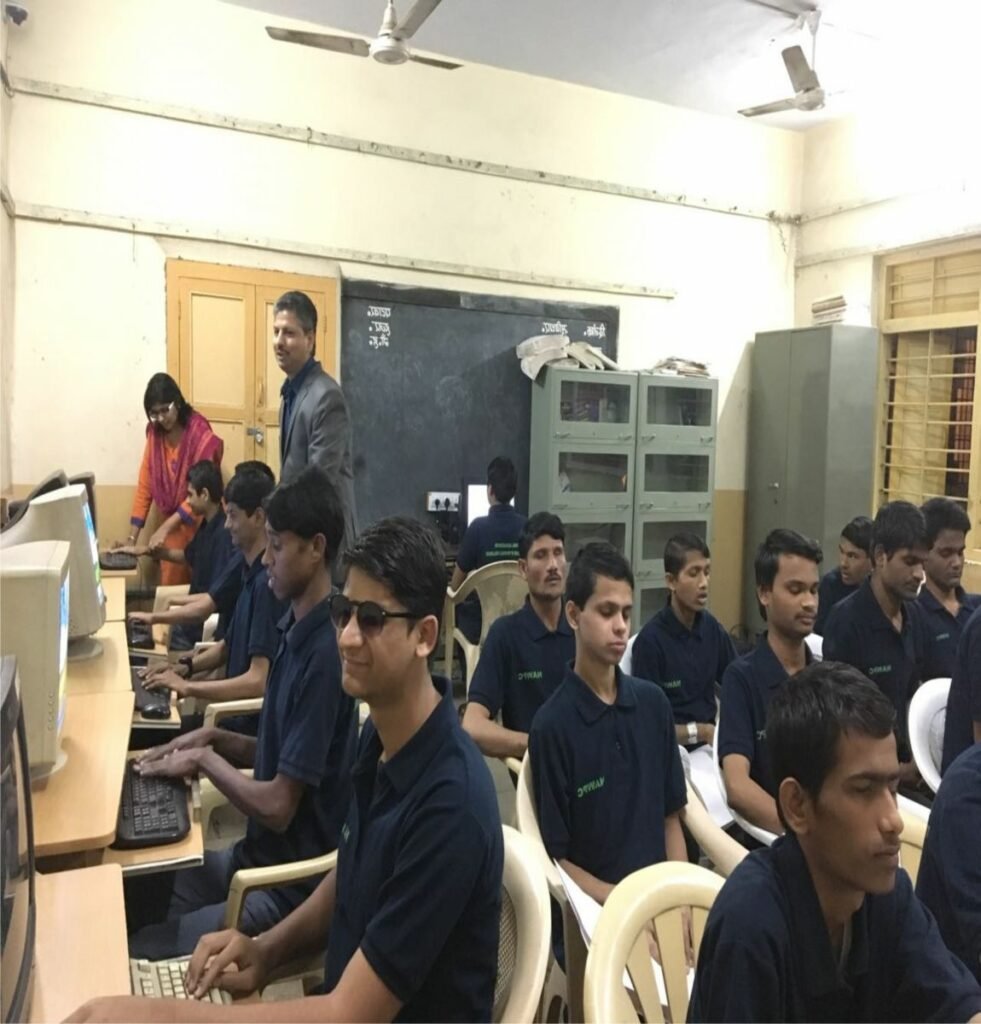 Incredibly, Rahul has set all this up without any aid from the government and instead has drawn mostly on the support of individuals who have contributed, along with corporate partnerships, which shows corporate social responsibility at its best. The corporate sector here has provided strong backing in all the projects; where the IT firm, Persistent Company, has been an active partner in setting up the hostel. Over the years NAWPC has empowered the lives of many young people who come through its doors and has big plans for the future, which includes providing scholarships.
The NAWPC proudly boasts about so many great success stories, where its students have gone on to full-time and meaningful employment in engineering, teaching, banking and many other sectors. The work of NAWPC is a reminder that those who are blind should have adequate means to realize their full potential and be able to lead a life of dignity.
India currently has around 12 million blind people against 39 million globally, which makes India home to one-third of the world's blind population, where 80 percent of blindness here is because of cataract and uncorrected refractive errors. The loss of sight because of avoidable reasons affects people in more ways than one. As blindness has an important cause and effect relationship with poverty, where educational, social, and economic deprivation becomes an integral part of their lives, especially those living in marginalized urban and rural pockets of India.
Working to eliminating avoidable blindness by year 2020 on a national level is VISION 2020: The Right to Sight – India. It is a key driver of the World Health Organization (WHO) and International Agency for the Prevention of Blindness (IAPB) and is a collaborative effort of eye care organizations in India and the Government to coordinate and advocate for improved eye care programs; gaining and sharing knowledge and think solutions together to achieve quality, comprehensive and equitable eye care. The next conference, which is now in its 15th year takes place on 8 and 9 June in Chennai.
(About the Author: Sangeeta Waldron is India CSR's Contributing Global Editor. She is based in London, UK writes on international affairs, broadening India CSR's news scope to bring you the best stories from around the world.)
Terms & Conditions: India CSR Network does not permit other Websites/Agency to copy or reproduce or reprint the above article/feature in any form or means.
Read more: Sangeeta Waldron