Cygnet Infotech is a credible name in the Technology Products, Services and Tax Technology domain. It has been in business for over 20 years offering technology-enabled business solutions to clients across 35 countries as the company enters the 21st year, the brand has undergone some bold transformations, to ensure that it continues to be a strong partner to its clients and other stakeholders in the years ahead. 
On the community outreach front, the organization has launched an ambitious CSR charter. Cygnet Infotech runs a digital learning program to support the virtual learning of children from less privileged backgrounds. In the context of the current pandemic, it is supporting a charitable hospital in Ahmedabad to build a new 15 bed ICU facility. 
Niraj Hutheesing, Founder and Managing Director, Cygnet Infotech talked to Rusen Kumar, Editor, India CSR on the company's social initiatives. He advised, "Companies should align their CSR initiatives to the core of their respective business purposes and strategy, further empowering communities."
Excerpts: 
Kindly provide a detailed background of Cygnet Infotech's CSR initiatives in the recent past.
Cygnet Infotech is committed to empowering the communities that it operates in and especially contributing to digital learning. Corporate Social Responsibility (CSR) at Cygnet Infotech is closely aligned with the organization's mission to empower lives globally with technology-enabled business solutions. Recently in July 2021, the organization conducted two CSR initiatives in and around Ahmedabad, along with Samerth Charitable Trust. The organization provided 80 new tablets to children from less privileged communities to enable their digital learning. The pandemic has changed the way students learn. Teachers and volunteers of Samerth Charitable Trust, along with employees of Cygnet Infotech, are playing a key role in enabling the digitally facilitated education of these children. Cygnet Infotech is also providing one month's food ration kit to 700 vulnerable families that have been impacted due to the pandemic.  
Prior to this, Cygnet Infotech has helped refurbish and established the Fostering Society and Communities Program in 2019. Through this program, Cygnet Infotech is transforming the lives of children and women at the Aanganwadi centre located in Jodhpur Village. The center has received a fresh lease of life as a part of Cygnet Infotech's CSR initiatives. Aanganwadi is a rural child-care centre started by the Indian Government to combat child hunger and malnutrition as part of the Integrated Child Development Services program. These are some of the many initiatives that Cygnet Infotech supports. We have a long way to go, and we are making our efforts, but we'd like to do a lot more and scale it up further and are committed to doing so in the future.
Kindly specify the tangible and intangible benefits of these projects.
Our recent CSR initiatives are effective steps towards supporting the education of children by equipping them with tablets thus giving them the means to educate themselves digitally. At the beginning of the pandemic, we saw a lot of students had to drop out of their schools, and stop learning as they did not have access to the technology or could not afford laptops, smartphones, or tablets. Our partnership with Samerth Charitable Trust will certainly help educate children and encourage supervised tutor-based learning through digital communication. The teachers and volunteers of Samerth Charitable Trust have leveraged these Tablets to enable more than 350 children from less privileged communities, in and around Ahmedabad, to continue their education through digital means.
Additionally, as many families in the country are going through tough times, we are offering the best help to support them by providing monthly ration by donating around 700 food ration kits. Having said this, we hope that our contributions to society will never be measured by what is being done or provided but will forever be valued around the intention of contributing.
Can you briefly describe the impact that this initiative will have and what are the challenges faced?
Our CSR charter focuses on enabling digitization, more to the less privileged people in our rapidly developing nation. Even before the inception of our company, we had recognized that digitization can play an important role in bringing parity in access to opportunities, which may be otherwise inaccessible to large sections of society. We are optimistic that our CSR initiatives will bridge the digital divide and provide an equal learning opportunity to children from disadvantaged backgrounds. Moreover, these tablets are not only just gadgets but mementos that are accorded in the memory of loved ones of the employees of Cygnet Infotech who have passed away due to COVID-19. Each tablet is engraved with the names of the deceased family member.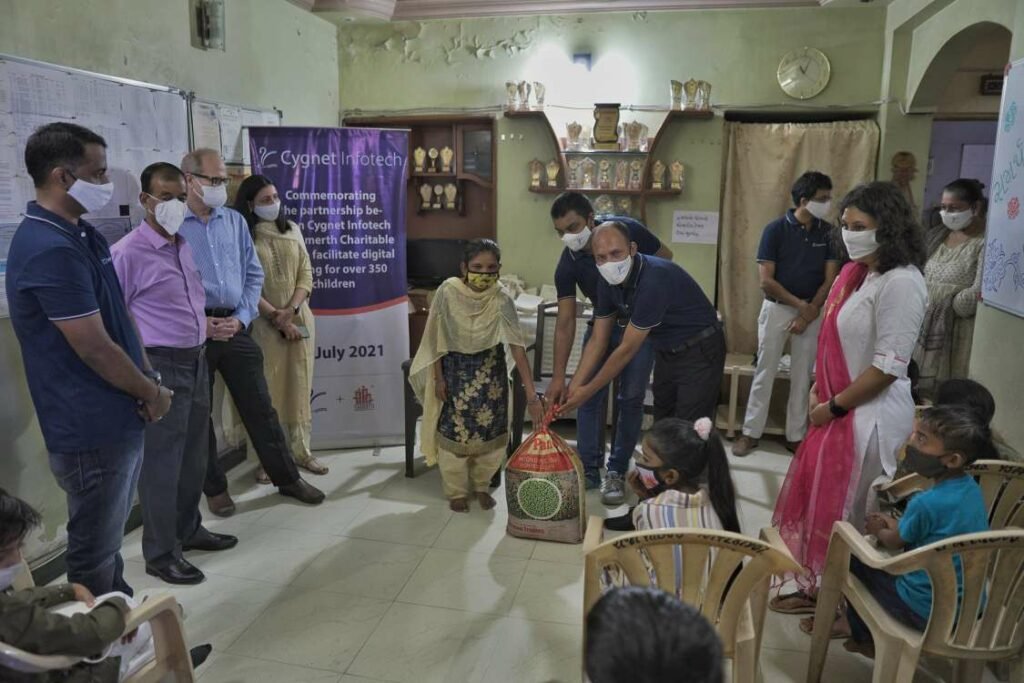 Talking about challenges, one of the main challenges is to ensure that we have the right setup to ensure that the communities get the full benefit of the program. We don't think that there were many, apart from the fact that we wanted to facilitate as many children as possible and cover more regions. Today, with each tablet 3-4 kids can study daily and knowing that makes us happy, as the results are visible. We have not only reached 350 kids but more and are able to support 700 families in this year.
The COVID-19 pandemic has heavily impacted classroom learning. What, in your opinion, is the way forward for learning and education?
Yes, indeed! The entire ecosystem of education has largely been disrupted by the ongoing pandemic, with its pros and cons. The Internet has substituted traditional classrooms for the digital learning cosmos. From pre-schools to large size universities, classroom tradition transitioned into digital learning podiums. What is heartening to note is that virtual classroom sessions have exposed young minds to digital learning, further building curiosity, and encouraging them to self-learn new concepts. It also opens up possibilities to reach many more communities and children of these communities. As we all are moving towards a technology-led future, we believe that digital learning is here to stay. Not that schools and universities aren't opening again, of course, they will, once we all are safe from COVID-19, but because tech has become an essential part of the entire education system. The future of education is Edtech, so to say digital learning will effectively contribute to the lives of bright and young minds of the country and we, the corporates should take the responsibility to ensure that technology is a catalyst in this process.
What are the key social responsibility challenges organizations are facing today?
With the ongoing situation, the challenges that most organizations are facing today, is to ensure that their CSR activities are both sustainable and reach as many as possible in three ways: economically, socially, and operationally. Paying an equal amount of attention to all three fronts. Not many realise that CSR isn't just an added responsibility but something inclusive and the whole organization should feel the sense of responsivity towards the initiatives taken by the company. The idea is to help and reach more and more communities even when it is difficult to connect in the virtual world. Connecting and staying stronger together helps.
What is your advice to have an effective strategic CSR for companies who are just starting with CSR initiatives?
Amidst the ongoing pandemic, being socially responsible has become more crucial than ever and almost every company is actively doing their bit, in the best way possible. A persuasive CSR strategy is imperative for contemporary companies not only to ensure strategic growth but also to be positioned as a responsible brand. Likewise, CSR practices help companies to attract the best talents and investors, maintain customer loyalty, build a progressive society, and enhance brand reputation. Hence, undertaking various CSR initiatives is very important for corporates, as well as start-ups and MSMEs.
Companies should align their CSR initiatives to the core of their respective business purposes and strategy, further empowering communities. The board members, senior management, employees, partners, and other stakeholders of the organization should always be keen to identify unique opportunities to contribute to building a more equitable society through CSR initiatives.
Organizations should realize that they could thrive only when they'll enable the wider community to prosper. In addition, organizations should demonstrate their values by making meaningful contributions to the communities they operate in. They should have a plan to empower those from less privileged communities, enhancing their future possibilities.
(India CSR)