Indian Textile industry takes a proactive step of eradicating child labor in any form of employment across the value chain as importing countries act tough.
The Cotton Textiles Export Promotion Council (TEXPROCIL) has stressed the importance of eradicating child labor in any form of employment across the value chain, mainly importing countries preparing a country-specific restriction list of products that use child labor.
The advisory comes in the walk of the fact that the US government recently issued a restricted import of goods and has included Indian cotton seeds, cotton, thread/yarn, besides other commodities based on some published reports. The United States Department of Labor has advised Indian companies to monitor and ensure that no child of forced labor is employed with their organisation or supply chain.
These issues were discussed during a webinar which was jointly held, including TEXPROCIL, Employers Federation of Southern India, Ethical Trade Initiative and The Southern India Mills' Association (SIMA).
Manoj Kumar Patodia, Chairman, TEXPROCIL, says that there is an urgent need for eradicating child labor employment and de-listing cotton seeds, cotton, thread and yarn from the restricted list.
Southern India Mills' Association (SIMA) has also developed a draft code on eradication of child labor for the employer's compliances. The code facilitates any textile manufacturing unit to protect itself from any criticism from the NGOs and also other stakeholders. It has also established a Sustainability Cell that helps textile mills for auditing and certifying an employment code, apart from assisting the mills in compliance.
Indian companies have been advised by the USA to monitor and ensure that no child labor or forced labor is being employed within own organisation or with the supplier's and buyer's organisations.
It was in September, when United States Department of Labor (US DoL) published a report titled '2020 List of Goods Produced by Child Labor or Forced Labor', which examined child labor data on 131 countries. In this report the agency published a list of restricted imports of goods that included Indian cotton seeds, cotton, thread/yarn besides other commodities.
Eradicating child labor in any form of employment is an important issue across the world and all major importing countries, especially USA in particular, are sensitive to this issue. Child labor is an international issue.
Indian carpet industry is also facing challenges with regard to child labor and steps like mandatory registration of all carpet looms and adopting a code of conduct for eradication of child labor apart from introducing various welfare facilities is need of hours.
As per TEXPROCIL data, in 2019, India achieved a level of USD 35.50 billion in exports of textiles and clothing, marking a decline of (-) 4.44% over the previous year. India's textile and clothing sector is a labor- and capital-intensive sector and as it remains an important source of employment for ordinary citizens—including thousands of migrants, skilled and unskilled workers who depend on it for their livelihoods. The industry contributes 2 per cent of India's GDP, 7 per cent of industrial output in value terms and 12 per cent of the country's export earnings.
As per a Govt. report, In the last five years, from 2016 to 2020, December 224851 children were rescued from child labor.
Children in India engage in the worst forms of child labor, including in forced labor producing garments and quarrying stones. Children also perform dangerous tasks in the production of thread and yarn. Children from migrant families or children belonging to scheduled castes, a socially disadvantaged group in India, are particularly vulnerable to child labor ages of 6 to 17 years.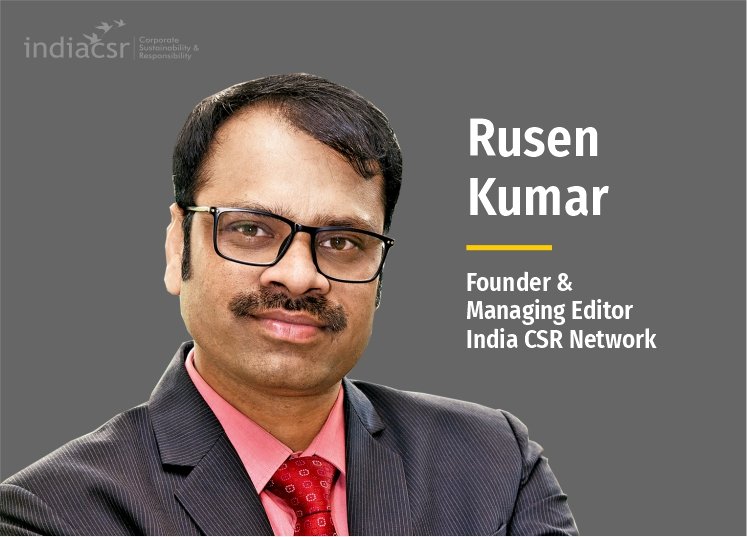 "It is the birth right of every child to get education and get rid of all kinds of atrocities. The best place for children is school, not factories. Due to poverty, illiteracy and unemployment, children of disadvantaged societies are made bonded laborers. In my opinion, Child labor is not a problem of business, rather it is a matter related to human rights of the citizens.", says, Rusen Kumar, Founder of India CSR.
"Along with taking restrictive action by the textile sector, a significant work has to be done on the education of children. Not exploiting children in any form and reporting of such activities are the fundamental responsibilities of every individual, institution and industry. Child labor is a social evil and should be eradicated as soon as possible. The sector will have to arrange special education for the children of workers and nearby communities under its Corporate Social Responsibility Programmes. Collaborative action on eradicating child atrocities and at the same time providing them education is key for responsible business conduct and sustained society.", he added.
Photo Source: Child Labour: Analysis of the 2016 Amendment – LexisNexis India