NEW DELHI: Firmly believing that awareness on road safety should start from young students to make a safer Delhi of tomorrow, Honda Motorcycle and Scooter India in association with Delhi Traffic Police said that Road Safety Summer Camp will be organised for school children in the city as part of citizen friendly measure, company said.
15 days camp will continue till 14th June at the Traffic Training Park, Baba Kharak Singh Marg, New Delhi. Moreover, Honda 2 Wheelers India will also be conducting Road Safety Summer Camp in Traffic Training Park Roshanara Bagh from 3rd to 14th June.
Over 900 school students will be given traffic awareness education by Honda's skilled safety instructors and police officials this summer. The camp will also be a secure and fun learning platform where children can also participate in several activities like dance, music, handwriting improvement, personality development and self-defence during their summer vacations.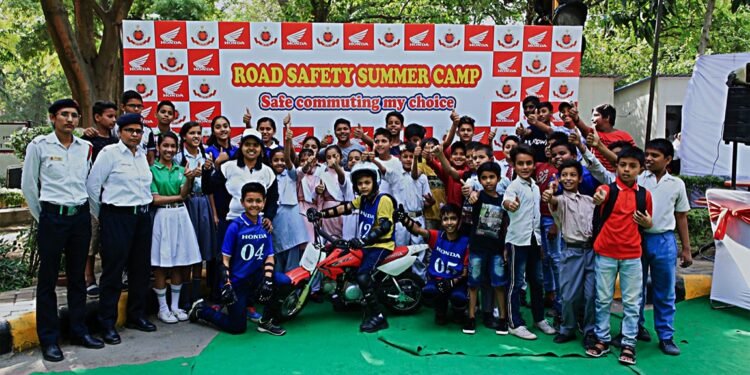 The Road Safety Summer Camp was inaugurated by Amulya Patnaik, (IPS) Commissioner of Delhi Police and Ashish Choudhary, GM and Operating Head, Honda Motorcycle and Scooter India.
On need for greater road safety awareness, Prabhu Nagaraj, Vice VP, Brand & Communication said, "The young champs of today are not only road users but future two-wheeler riders as well. For the past 6 years, Honda has been actively conducting various road safety activities in our 2 traffic parks in Delhi and made more than 1.7 lakh school children safety ambassadors of their families."
In July 2013, Honda adopted its traffic training park in Delhi in association with the Delhi Traffic Police and administration. Since then, Honda's initiative has already educated more than 2.8 lakh citizens in national capital on road-safety and safe-riding in just 6 years!
Making learning on the serious topic of road safety more fun-oriented, Honda will conduct different activities for school students:
Interactive Session
Honda's specially trained road safety instructors to educate children about the do's and don'ts while commuting in a school bus and cycling.
Practical Learning
School going students will learn to ride their cycle safely, or as a pillion on two-wheeler and importance of safety gear on roads. To make this learning more practical and fun, children will learn on the specially imported CRF50 motorcycles.
Scientific theory module
Honda will also conduct Safety riding theory session and fun educational activities like road safety games and quizzes on daily basis so that young school children learn about safe riding in a fun way.