Chandrakant Nayak, CEO and country president, Dow India talked to Rusen Kumar, Editor, India CSR for India CSR Leadership Series on various recent CSR development of the company. He says, "The awareness around responsible utilization of resources is now more than it ever was. Consumers are increasingly wanting to associate with brands that are both socially and environmentally responsible."
Edited excerpts:
Tell us a little about the CSR philosophy for Dow India.
With an ambition to be the most customer-centric, innovative, sustainable, and inclusive material science company, integrity, respect for people and protecting the planet is at the core of what Dow India does. By extension, Corporate Social Responsibility (CSR) is an integral part of the operations in the world's most populous community. Dow India CSR programs reflect its motto of 'a relentless, inclusive group of problem solvers looking to innovate the future with you.' The core principles that underpin the CSR activities are – partner with projects for the long term, seeking opportunities for technological collaborations, and pro bono employee volunteerism and engagement.
We have a two-pronged strategy to CSR: 1) Impactful pan-India partnerships such as the Jaipur Foot camps through Bhagwan Mahaveer Viklang Sahayata Samiti (BMVSS), STEM center education through Agastya Foundation, and women empowerment programs with Mann Deshi Foundation and 2) Need-based activities in the vicinity of our India's plants. Our fundamental belief is that Communities are critical stakeholders, and we try to make a change in their lives by solving some very local challenges.
We are committed to understanding, monitoring, and managing our social, environmental, and economic impact to enable us to contribute to society's greater goal of sustainable development. This commitment is deeply ingrained in our core values, and we aim to demonstrate these responsibilities through our actions and within our corporate policies.
Is sustainability one of the major drivers for CSR activities for chemical companies?
The awareness around responsible utilization of resources is now more than it ever was. Consumers are increasingly wanting to associate with brands that are both socially and environmentally responsible. At our company, in everything we do, we strive for a positive impact on society and the planet.
We believe that what is good for the planet and society is also good for business. We embarked on our sustainability journey over two decades ago. Taking a structured approach, we integrated sustainability into our products, processes, and policies. Our businesses have proven their worth of investments in sustainability research and innovation in terms of competitive market advantage. Many of our most successful business units are meeting increasing demand, driving revenue, increasing profit, and fostering growth from sustainable products and solutions.
We have recognized the need to build further awareness among communities and collaborate with them to drive a behavioural change that's needed to drive sustainable practices.
Beyond using resources more efficiently, we are working towards innovations that enhance the quality of life for the current, as well as future generations.
Which are your key CSR projects in India – how have they fared over the years?
Over the last two decades, we have has focused on long-term projects with the clear objective of making a sustainable impact on the communities we operate in. Our key focus areas are women empowerment, differently-abled people, environment, and education. We are currently working on four impactful pan-India projects – Jaipur Foot, Agastya Foundation, My Sustainability Corner, and Mann Deshi Foundation.
Jaipur Foot: Our CSR journey started in 2006 when we initiated collaboration with the NGO Bhagwan Mahaveer Viklang Sahayta Samiti (BMVSS) to support people with disabilities. The Jaipur Foot is a prosthetic foot that helps people who have lost a limb regain mobility. We have used our technology expertise in materials science to help the limbs become more lightweight, enhance durability and flexibility. To date, we have provided 65,390 limbs free of cost, and around 3,000 limbs are offered every year through this arrangement.
Dow-Agastya Mobile Science Lab: In 2015, we collaborated with Agastya Foundation to introduce Mobile Science Labs with easy, affordable scientific models and experiments. The Mobile Science Lab aims to reach children in rural and semi-urban areas with little or no access to hands-on science education and impact over 10,000 children in the age group of 6-15 years every year. We envision that this will play a small part in inculcating scientific insight and creating a love for science, technology, engineering, and medical disciplines.
Mann Deshi Foundation: We partnered with Mann Deshi Foundation in 2017 to encourage and empower women entrepreneurs from rural areas of Maharashtra. The partnership kick-started with the launch of a 'Deshi B-school' in Chiplun, Maharashtra. Since then, 11,607 women entrepreneurs have registered themselves to obtain first-hand business training at this facility. Strengthening this collaboration, the company also supports Mann Deshi in setting up their annual 'Mann Deshi Mahotsav' in Mumbai. The festival is a platform for more than 232 women entrepreneurs to reach out to over 60,000 customers to sell their goods and boost their confidence.
My Sustainability Corner: Dow India launched a collaboration with NGO partner Sahyadri Nisarga Mitra (SNM) in June 2021 for plastic waste management in Chiplun, Maharashtra, where school students and communities were encouraged to participate in collecting and segregating plastic waste from various locations, including their homes. The My Sustainability Corner initiative emerged from this collaboration as a common location where all the plastic waste is collected. SNM partnered with 15 schools of Chiplun, Maharashtra with over 4,000 students to cultivate plastic positive behaviour. The scope of this project will be expanded to start community clean-up drives across Chiplun and its adjoining villages. To make it a pan India project, in the next phase, the model of the project will be set up in Chennai and Taloja, Maharashtra.
Along with these initiatives, we are engaging with the communities in and around our sites and local offices on need-based projects. Through our NGO partners, we have collaborated on projects such as civic sensitization, hygiene camps, infrastructure setup- support to local schools, health check-ups for families and relatives of its extended workforce. There is a keen focus to empower children to study with aids such as stationery sets, school bags, notebooks, geometry boxes, and sports equipment. The company also works on vocational training including computer courses, tailoring and beautician courses to equip our citizens with livelihood skills.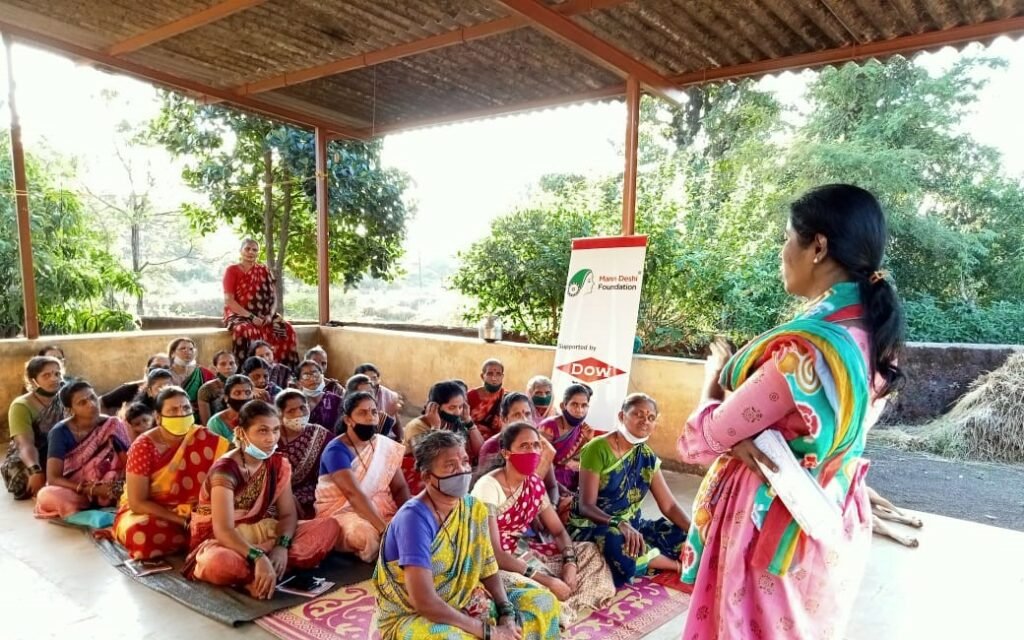 You have been associated with Jaipur Foot for over 10 years. Talk to us about the journey of the programme and the ripple effect created in communities and with your employees.
Every year, thousands of people in India lose their limbs to diseases, accidents, and other hazards. Inflicted by poverty, many do not have the necessary means to access healthcare or rehabilitation services. The Jaipur Foot is a prosthetic foot for people who have lost a limb. It was originally an artificial limb, handmade from vulcanized rubber. The skilled workforce had to labour for hours to make each foot.
In 2006, we partnered with NGO Bhagwan Mahaveer Viklang Sahayata (BMVSS), vehicle interiors manufacturer Pinnacle Industries and Indian Space Research Organisation (ISRO) to develop an enhanced version of the Jaipur foot – The Polyurethane (PU) Jaipur Foot. The new foot offers a lighter foot with greater flexibility to the users, enabling them to not only walk comfortably but also to squat, kneel, crouch, and even sit cross-legged. It is recommended by leading orthopedics in the country.
The idea of using polyurethanes is an example of the concept and product innovation. The integration of the material properties to the application demonstrates technical creativity. In addition to the limb being cosmetically close to the natural human limb, the new foot is more durable, 20 percent lighter and costs 25 percent less. Using technology and expertise, 8 superior moulds can now be made at the same time it took to produce one foot previously.
How does Dow India define employee volunteerism? How has it evolved within the organization?
Over the years, employee volunteerism has evolved from a philanthropic, nice-to-do activity to a mission and urge to make a difference in lives.
The scope of volunteerism beyond spending a day in the community has expanded to build the capacity of the NGO partners and the communities we collaborate with to impart knowledge to the communities. Today, our employees nominate themselves as champions of a project and contribute towards needs such as technological development, sourcing activities, etc. to complement and enhance our NGO partners. They also deliberate on topical issues that they are passionate about and to which they wish to contribute. The engagement has progressed massively in terms of scale over the years.
While there is a sense of satisfaction and contentment that employees gain while engaging in these pro bono engagements, the company has, over the years, seen enhancement in the proficiency of two of our competencies: 1) collaboration, especially in cross-functional teams, and 2) empathy and respect for each individual and job irrespective of levels, defining a new culture for us.
A few years back you associated with the Mann Deshi Foundation. Give us the details of this association and how it aligns with the overall CSR strategy of the company.
Our partnership with Mann Deshi Foundation kickstarted in October 2017, with the launch of a 'Deshi B-school' for the women of Chiplun, Maharashtra. The center imparts vocational training and courses on financial literacy and inclusion as the core tenets of this Deshi-MBA curriculum. This was a pertinent initiative for these women as it enabled them to become financially independent and self-reliant and help run the household. The relevance of their contribution to their families has especially been valued during COVID-19, when many of their husbands would have lost their jobs due to the pandemic, causing the females to become the sole breadwinners of the household and avoid financial distress.
In the first six months itself, over 300 women entrepreneurs registered themselves to obtain first-hand business training at this facility.
This partnership is an outcome of the shared vision – to empower and transform lives. With Mann Deshi's track record and passion, we believe we found the right partner. Strengthening this collaboration, we also supported Mann Deshi in setting up the annual 'Mann Deshi Mahotsav' in Mumbai. The festival was a huge hit with a footfall of over 30,000 people over three days. It was a platform for more than 279 women entrepreneurs to showcase arts and crafts, culture, and cuisine from rural Maharashtra. We also leveraged this wide-reach platform to generate awareness around plastic segregation and plastic waste management.
What are the current trends in CSR? Leave us with thoughts on how other organizations can make the most of CSR and what should be the next course from a policy point of view.
Corporations will continue to invest in CSR because it is important for the communities in which they operate. We have already seen a shift in the approach to CSR from defensive to charitable and beneficial the societies.
The next-generation practice of CSR will be transformative and for social impact. With new challenges and changing regulations, companies won't just uphold their commitments to CSR but will step up as advocates and problem solvers to address greater global challenges, bringing CSR out of the limited framework of community work to a purpose-driven model. Additionally, cross-sector partnerships will be on the rise, with companies bringing their core competencies and skills to collaborate with their extended value chain both for impact and scale.
There will be increasing mapping of the United Nations Sustainable Development Goals (SDGs) to the company's operations and values, and thus actions defined around it – making the agenda aligned and seamless across the world. Companies will also become storytellers and will tell compelling, multidimensional human stories about who they are, and the social impact they have created.
I also believe that the role of the CSR leader will continue to grow more sophisticated, akin to something like a social risk officer, raising the bar for CSR leaders and expanding their influencer pool.
What did Dow India do to offer COVID-19 relief for its communities in India?
Dow India's Covid relief efforts span three phases, Covid 19 prevention, protection, and treatment. We have committed US$105,000 towards COVID-19 related community relief within the neighbouring communities of Maharashtra and Chennai. To help prevent infections, we have donated ~1000 N95 masks, sanitizers, PPE kits. To help further reduce the risk of infections about 2500 members from deserving communities were inoculated through three vaccination drives.
In our treatment phase, we delivered ~170 pieces of medical equipment including oxygen beds, HR CT scanner, ICU beds, para monitors, ECG machine, ventilators, etc to help tackle the peak of the pandemic and its impact on our health infrastructure.
Since the onset of the pandemic, we prioritized COVID-19 relief efforts and ensured the delivery of critical equipment and medical supplies to those who need it the most.
The company supplied ICU beds, hybrid ventilators, defibrillators, bipap machines, suction machines, ECG machines, multipara monitors, and an ECG trolley for a Covid Care Centre in Lote, Maharashtra. In addition to these relief measures, sensing the need of community members who were unable to step out of their homes to earn daily wages during the lockdown, the company supported nearly 300 families by providing them with dry ration essentials.
Dow India partnered with several of its NGO partners including Sahyadri Nisarga Mitra, Humana People to People India and Freedom For You Foundation to fulfill the support that communities need around them.
In July and August, Dow India facilitated three separate vaccination camps for about 1000 beneficiaries and held a concentrated assessment to cater to the immediate needs of the communities it operates in. In its most recent effort, the company conducted a free-of-cost vaccination drive for neighbouring communities at Dr. Prabhakar Patwardhan Smruti Rugnaalay, Panvel. The drive catered to ~1575 people across age groups of people most susceptible to the virus owing to their occupation – namely maids, autorickshaw drivers, labourers, truck drivers, amongst many others.
About the Author
Rusen Kumar is the founder and managing editor of India CSR – The CSR Informer of India. He writes on CSR, Sustainability and Environmental affairs. He brings an understanding of governance, leadership development, social development, human development, and strategic focus by serving for-profit and not-for-profit boards and as an advisor to chief executive officers and executive management members. His leadership accomplishments in social enterprise, planning, and governance range from viable achievements in knowledge forum initiatives to advancement of corporate social responsibility issues in India. He can be reached at editor@indiacsr.in. Read more about Rusen Kumar
(CopyRight@IndiaCSR)