NEW DELHI: Vedanta Resources, London based globally diversified natural resources company with interests in Zinc, Lead, Silver, Copper, Iron Ore, Aluminium, Power and Oil & Gas has released 10th Sustainable Development Report, which has been prepared in accordance with the Global Reporting Initiative (GRI) Standards: Core option.
It is mapped to the United Nations Global Compact (UNGC) and aligns to Sustainable Development Goals (SDGs). It reports Vedanta approach and disclosure towards triple bottom line principles – people, planet and profit over FY 2017-18.
According to the report, Vedanta has spent Rs. 270 Crore (US$ 39 million) in corporate social responsibility (CSR) programs in India during the year, Annual Sustainability Report, 2017-18 reveals.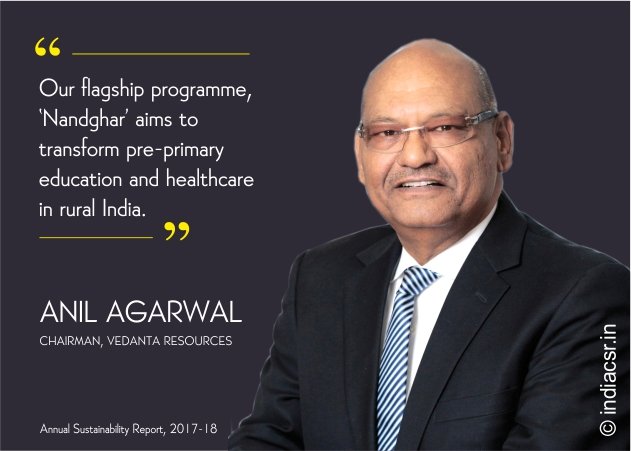 "Over the course of the last year, Vedanta invested over US$ 39 million in social programmes. Our efforts have touched the lives of 3.4 million people in over 1,400 villages. Our flagship programme, 'Nandghar' aims to transform pre-primary education and healthcare in rural India. We have committed to construct 4,000 state-of-the-art child welfare centres across the country to support women and children by providing nutrition, education, skills development and healthcare they need.", said Anil Agarwal, Chairman, Vedanta Resources.
"This initiative aligns with the larger vision of Vedanta Group's commitment to give back to society, and I look forward to many more research & development initiatives from the foundation going forward.", he said.
"Our programmes in children's well-being & education, women's empowerment, healthcare, drinking water & sanitation, skilling of youth, environmental protection, sports & culture, community infrastructure development, and agriculture and animal husbandry will continue to enhance lives of those who live around our operating sites., he added.
Vedanta has crossed the 500th Nand Ghar milestone this year and aims to build 4,000 Nand Ghars across 11 states. It has established a 170-bed cancer hospital – The BALCO Medical Center – in Naya Raipur, thereby bringing much-needed modern oncology care to the state of Chhattisgarh and central India.
Terms & Conditions: India CSR Network does not permit other Websites/Agency to copy or reproduce or reprint the above article/feature in any form or means.