By Shashanka Ala, IAS
Launching "Pink Toilets", a safe centre providing sanitation services and multi-utility spaces to women and children to make safe, inclusive, and resilient cities tomorrow.
My name is Shashanka Ala, an Indian Institute of Technology (IIT), Madras alumni, and an Indian Administrative Service (IAS) officer who is currently serving as the Deputy Commissioner, City SP Zone, North Delhi Municipal Corporation. Being an Indian Administrative Services officer, I have had the opportunity to serve in diverse areas. During my posting in Lawngtlai, Mizoram, I noticed that malnutrition in the district was acute among newborn children and the school infrastructure was inadequate to cater to their immediate needs. To address this, we launched a unique initiative, 'My School, My Farm' by which we set up nutrition gardens in schools and anganwadis, using recyclable items, and contributed to transforming India's one of the most backward districts into a self-sufficient region. My belief that "one doesn't have to reinvent the wheel each time, just revive solutions that have been forgotten" has helped us use localized solutions to solve a few problems in Indian society.
According to the United Nations Children's Emergency Fund (UNICEF), around 550 million people practiced open defecation in India, which is more than half the population of the country, leading to health and environmental hazards. This only speaks of India's performance in providing universal sanitation. Even after 75 years of Independence, open defecation remains a huge problem in India. This is mostly due to lack of maintained public sanitation facilities, poverty, and illiteracy. But since the launch of the Indian Government's Swachh Bharat Mission (SBM) by our Prime Minister Narendra Modi on October 2, 2014, there is a steady improvement in the situation.
The mission to build toilets in urban and rural areas achieved a significant reduction in open defecation between 2014-2019. According to UNICEF, the number of people not having access to toilets reduced from 550 million to 50 million. Under SBM, all villages, Gram Panchayats, Districts, States, and Union Territories in India declared themselves "open defecation free" (ODF) by October 2019, as per the Ministry of Drinking Water and Sanitation.
Concept: Pink Toilets
Women from all economic strata are affected by the unavailability of public toilets but the problems of women from the lower strata are increased since they hardly have any options. The issue of toilets is more serious in urban areas rather than rural areas because urban living is often cramped and devoid of any open space. To make the situation worse, the unavailability of free-flowing water and inadequate space hinders the usage of sanitation facilities. In this regard, North Delhi in the North Delhi Municipal Corporation area has one of the busiest and oldest market places along with old settlements. These habitations in North Delhi are from the time when the city was walled and has seen unplanned development in the last decade.
Our Pink Toilets program is towards strengthening the resolve of a Clean India by being a great solution to the problem of open defecation in India. The majority of the women complain that there are not enough public toilets which they can use at the time of need. Some say that those available, charge fees or are dirty and not well maintained. Women belonging to decent backgrounds have the option of paying and using the services, while the underprivileged women are left with no option but to defecate in open. Thus, making it important to build toilets specifically for women and children to address these issues.
The Pink Toilets are built and owned by the Municipal Corporation of Delhi (MCD). Since its inception, the program has seen huge progress with 20 Pink Toilets currently being operated across Delhi.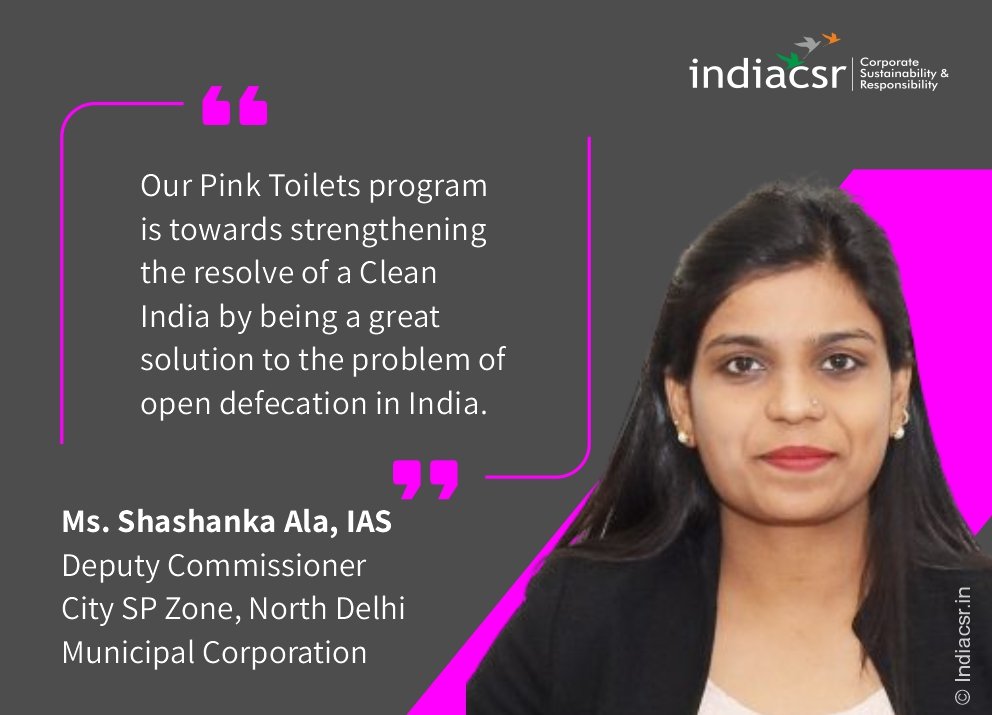 Partner Organisations
The 'Pink Toilets' program is a collective effort based on the Private-Public Partnership (PPP) model where corporates under Corporate Social Responsibility (CSR) such as PVR NEST, the CSR arm of PVR Cinemas, Plan India, etc. has implemented the program. Being a leader in the cinema industry, we are elated that PVR came forward to support Government's initiative through PVR NEST. It works in alignment with Sustainable Development Goal (SDG) no. 11 which envisions safe, inclusive, resilient, and sustainable cities for all. Since its inception, PVR NEST has worked relentlessly towards its aim of a 'safe city' and in the field of women and child empowerment through several programs.
The key responsibility of the Municipal Corporation is to provide clean and safe public toilets for all. Maintaining public toilets in congested areas is a huge challenge and needs to be managed effectively for brighter outcomes. The partnership with PVR NEST brought out an opportunity to elevate public toilets to the gold standard and provide the residents of Delhi with clean and safe toilets.
The uniqueness of Pink Toilets
Pink Toilets are beyond just toilets. They are unique in the sense that these toilets are free, multi-utility spaces, run "by the women, for the women." They are hubs of empowerment for both women, and children. These multi-utility spaces are equipped with services that are essential for women and children in their everyday lives. The facilities available are sanitary pad vending machines, incinerators, breastfeeding areas, restrooms, etc.
For the users, Pink Toilets is a space where they can exercise freely their basic rights of hygiene and sanitation. For the Water, Sanitation and Hygiene (WASH) champions, i.e, our Pink Toilets staff, this space is full of freedom and opportunities as we provide them with new skills through various workshops and training such as on leadership, personality development, communication, capacity building, financial literacy, etc.
The COVID pandemic has made us change our existing methodology. Now, our complete focus remains on keeping our users safe when they arrive at the centres. We hold regular consultations with industry experts to ensure that we can cope up with changing needs of society, particularly women and children. For the safety of our users, we have trained our women staff to follow COVID-Appropriate Behavior (CAB) which includes wearing face masks at all times, recording the temperature of the users, sanitizing their hands, etc. We also provide them with various chemical disinfectants and cleaning agents.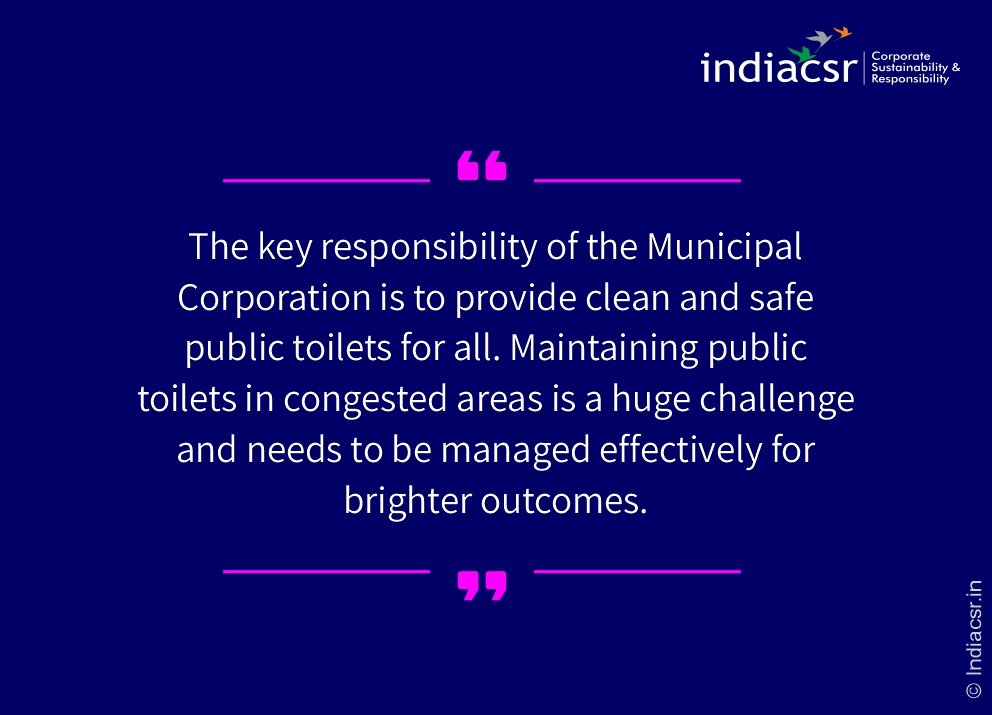 The Pink Toilets program, initiated to provide women and children safe spaces for sanitation and hygiene, has come a long way since its launch. The success of this program depends on the people associated with, i.e., our users, and the Pink toilets staff. We have the vision to have Pink Toilets not just in Delhi, but across the country so that every woman, irrespective of her caste, creed, and religion, can access the services. To me, this country will be a developed nation when every one of us can have inclusive access to clean water and sanitation facilities.
(About the Author: Shashanka Ala, an Indian Institute of Technology (IIT), Madras alumni, and an Indian Administrative Service (IAS) officer who is currently serving as the Deputy Commissioner, City SP Zone, North Delhi Municipal Corporation.)
Views are personal.