NSE Foundation, a section 8 subsidiary of National Stock Exchange of India Limited, under Project CAVACH, (COVID-19 and Vaccination Assistance Campaign for Health) has addressed the dire need for oxygen in government hospitals by providing oxygen plants in nine locations of which three are in the state of Jharkhand.
The Honorable Union Minister for Tribal Affairs, Arjun Munda, today laid the foundation stone for an oxygen generation plant at the Community Health Centre in Kuchai, Saraikela, Jharkhand. This plant will have the capacity to produce up to 200 LPM (tres per minute) of medical oxygen and will provide oxygen therapy and respiratory support to individuals suffering from COVID-19.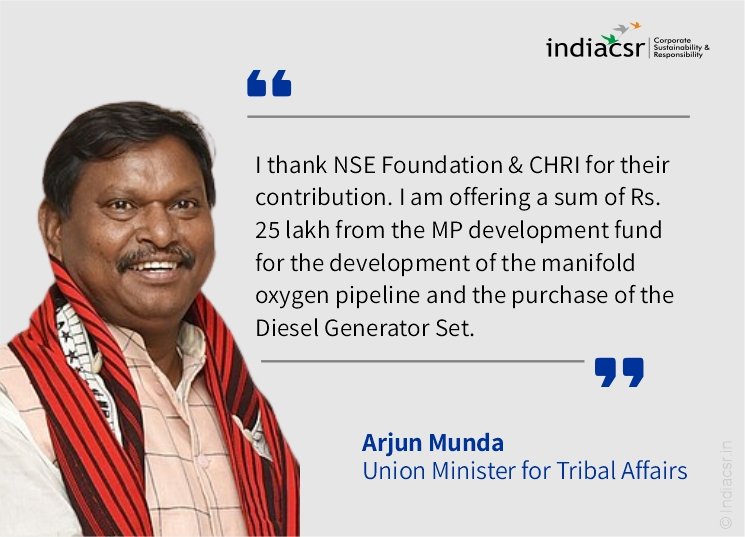 Improving oxygen availability
In April this year, India was struck by a second wave of COVID-19. To meet the overwhelming demand for medical oxygen that arose during that period– especially in poorly connected parts of rural India – NSE Foundation leveraged its partnership with the local district administration in locations out of normal development ambit, to improve the oxygen availability in times of crisis since future waves of COVID-19 variants are predicted. 
30 grass root level partners
On 15th July 2021, Project CAVACH, an integrated effort to create COVID awareness by NSE Foundation, was launched by Dr. V.K. Paul, Chair, National Task Force on Covid-19 (ICMR). This innovative program unites the efforts of more than 30 grass root level partners to facilitate increased vaccination in five remote 'aspirational' districts of India including Nandurbar and Osmanabad in Maharashtra, Karauli in Rajasthan, Ramanathapuram in Tamil Nadu, and Kiphire in Nagaland.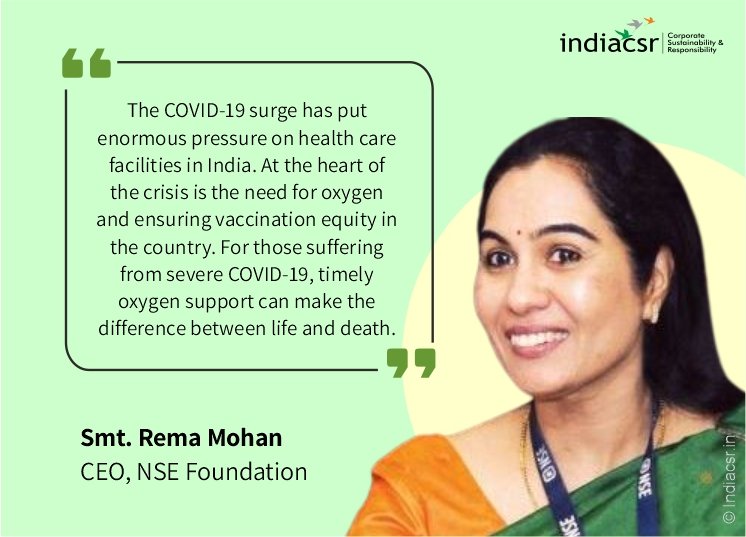 Project CAVACH
In addition, supply of critical medical equipment and installation of larger oxygen generating plants was also undertaken under Project CAVACH. Centre for Health Research and Innovation (CHRI) is partnering with NSE Foundation to accelerate health equity by providing technical and knowledge support to the hospitals to operate and maintain the plants successfully. 
Rs. 25 lakh from the MP development fund
After laying the foundation stone for the oxygen generation plant, the Honorable Tribal Affairs Minister, Shri Arjun Munda said: "I thank NSE Foundation & CHRI for their contribution. I am offering a sum of Rs. 25 lakh from the MP development fund for the development of the manifold oxygen pipeline and the purchase of the Diesel Generator Set. I also thank and congratulate all the healthcare workers for playing their roles responsibly during the second corona wave."
Timely oxygen support
Smt. Rema Mohan, CEO, NSE Foundation on the inauguration of the plant said, "The COVID-19 surge has put enormous pressure on health care facilities in India. At the heart of the crisis is the need for oxygen and ensuring vaccination equity in the country. For those suffering from severe COVID-19, timely oxygen support can make the difference between life and death."
Oxygen generation capacity
Kushal Mazumdar, Director of Finance & Operations at PATH India said, "PATH has been working in the field of respiratory care for almost a decade now. As the COVID-19 crisis hit India, we have been working tirelessly to provide critical support to multiple state governments and health facilities in India. With the help of our partners, we are helping states scale up their oxygen generation capacity to ensure that everyone in need has access to oxygen therapy."