Since 2015, Magma had awarded scholarships to 400 students, many of whom now have successful careers on completion of their course. Students who have secured 80% or more in Plus 2 Board exam in 2020, but come from families with monthly household income of Rs. 10,000/ or less, are eligible to apply for the scholarship programme. There are 100 scholarships on offer.
Kaushik Sinha, Head, CSR, Corporate Communications & Corporate Services, Magma Fincorp Ltd shared his views on M-scholar. Excerpts of an interview:
What is your vision for M-scholar?
Magma' scholarship program M-Scholar has become a game changer for many marginalized families. Many students from our previous batches have graduated with flying colors and joined reputable organisations in India and Overseas. The monetary support has helped them in scaling great heights and today they are all set to lead a better life which was earlier a distant dream for them.
Magma will continue with the current scholarship program 'M-Scholar' at least for the next 5 years. However to increase the number of students we plan to enter into partnerships with other corporates with similar enthusiasm in providing education to the marginalized. The association will have additional funds which will help the scheme to enroll more students along with widen its horizon.
What has been the Impact of these activities?
M-Scholar has created a meaningful impact on the lives of students across India. Our students belong to marginalized families where meeting daily expense is a challenge. So spending money on education is generally not a priority. We have come across several students who in-spite of scoring brilliantly in competitive exams were about to give up their academic life due to financial constraints. In such a scenario M-Scholar provides much needed financial help to students so that they can continue with their studies without being a burden on their parents.
Students from our earlier batches have completed their studies and many of them have already started earning. The salary range of these students varies from Rs 3 lac-42 lakhs annually. We have empowered them to dream big now, compared to the state they were in earlier where they didn't know if they would have money for their next meal. Now their own kids are earning in lakhs.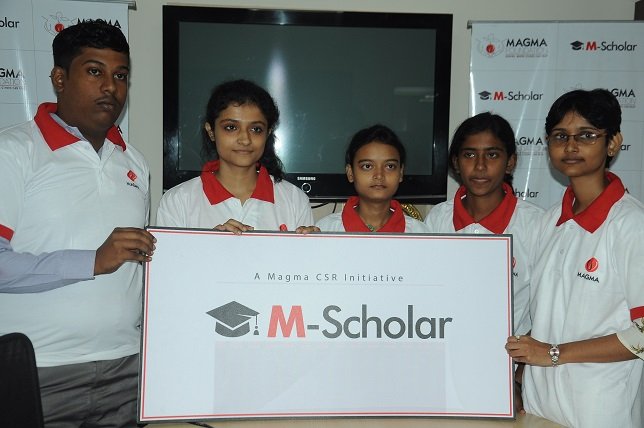 How have employees helped in volunteering for this program and other CSR activities?
Our employees are our brand ambassadors. Every year our employees scout for deserving students in their community. We communicate about the scholarship program M-Scholar to our employees via SMS/Wastapp/Mail and encourage them to recommend students. We update them about the scholarship criteria and request them to look around and refer students who meets the criteria. We also asked them to speak to the underprivileged people in their areas and update us with their details.
Magma has a dedicated CSR fund allotted for the projects submitted by employees, SWAYAM. Employees are asked to look for deserving projects around them which are in need of funding and share the details with the CSR team for consideration. The CSR team along with employees in the vicinity conduct the due diligence and if selected then we ask them to supervise the project which gives them the feeling of ownership. We also intimate the relevant teams and branch managers about our other CSR projects. We recently ran a nationwide survey among the employees and 85% of them are keen to volunteer for the projects, we are very excited about this.
What are the focus areas for FY21 Magma CSR activities?
Due to the COVID-19 pandemic and natural calamities of floods in Bihar and Assam, we have decided to focus on health projects in FY21. We are planning to organize medical consultations for rural people staying in the remote areas. Apart from this we will also conduct health camps in the once the lockdown is lifted. Presently we are reaching out to the communities with supply of mask and sanitizer and building awareness on social distancing through the support from our team members near our branch catchment areas.
Rusen Kumar is the founder and managing editor of India CSR. He regularly writes on Sustainability, Corporate Governance, Corporate Social Responsibility – CSR.