Archaeologists excavating a cave in southern Germany in 2009, discovered a flute carved from a vulture's wing bone, revealing that people have been making music for over 40,000 years and music remains a powerful way of bringing people together. While, we can't be sure exactly when humans began listening to music, we do know that listening to music, benefits us individually and collectively.
Now, here in the UK, using the collective power of music, Bhavik Haria has started a campaign called, #KeepBhajansAlive – to spread the love for bhajans, a form of music that hails from India. Bhajan is a Sanskrit word, derived from the word bhakti meaning 'loving devotion.'
I was immediately drawn to #KeepBhajansAlive, as bhajans are something I am familiar with and have happy memories of accompanying my mum to many a bhajan event in India and I have also attended a few gatherings in the UK. One of the main features of music is to create a feeling of cohesion or connectedness and one of the special elements of bhajan, is that it is a group event, with one or more lead singers, accompanied with music, and sometimes dancing. There is a percussion accompaniment such as tabla (Indian drums), a tambourine, handheld cymbals, which are all used to maintain the beat.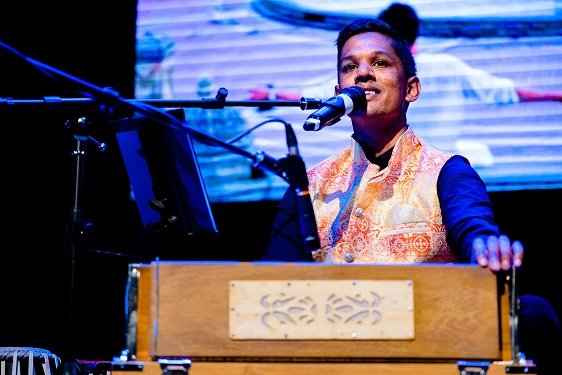 London based singer, Bhavik is known for his versatility of performing bhajans and Bollywood songs and knows well the benefits that this music tradition has to offer. Yet, he found that in the UK, bhajans are on a slow decline, particularly with younger people, who do not identify with it or understand its purpose. He is now on a mission to change things and inspire the next generation.
Bhavik strongly believes that this genre of music is for all generations, as it can be experimented and fused together with other styles to create something contemporary without losing its heritage. To get this campaign going, he wants to produce a seven track album that will bring together musical elements from both traditional Indian and Western cultures to inspire the next generation and spread the love for bhajans. He also wants to create a mini-book to share the meaning of the bhajans and lyrics on the album for everyone to be able to sing along.
Bhavik says, "I believe that there so much to bhajans, listening to them helps us connect with our inner self, relax and focus on the peaceful positive vibes. Especially in our fast-paced, constantly changing environments, that we live in today, surrounded by stress, uncertainty and negativity. Bhajans is a way to zone out, bring calmness to the mind, regain inner strength, find a source of comfort and embrace the present moment you are in."
Bhavik is not alone in his thinking, as many studies show that the power of music helps to improve our physical, mental, and emotional health. It is a great way of uniting people from national anthems that connect crowds to protest songs that stir a sense of shared purpose during marches to hymn singing that build group identity in houses of worship to good old love songs and lullabies that allow parents and infants to bond.
During this global pandemic of the COVID-19, music has been popular, where communities have turned to music to connect with each other, from coordinated displays of appreciation, that includes the handclapping to acknowledge the health workers on the front lines.
To know find out more and support the #KeepBhajansAlive campaign visit Indiegogo
Sangeeta Waldron is India CSR's Contributing Global Editor. She is based in London, UK writes on international affairs, broadening India CSR's news scope to bring you the best stories from around the world.