The apparent pollution seems to be external from the windows of our houses, but recent studies and researches have shown that the four walls in which we live are no less than sources of air pollutants emitted from different and basic activities which include cooking, cleaning, painting, washing and many more which are unavoidable. Several air purifiers and filters are available in the market, but they seem to be miles away from the hands of an ordinary man, hence for sustainable management of this dilemma, few indoor plants are having an inherent capacity of purifying the indoor air quality by the plant mechanism termed as phytoremediation.
Plants also have a mechanism to cool the surrounding environment and they also act as an effective medium to adsorb as well as absorb the suspended particulate matter on its leaf surface but now these indoor plants also work well in cleaning the inner environment at the workplace as well as homes. These suggested plants not only require very little intensity of sunlight but also requires very less management, thus they are excellent for forgetful gardeners, they have a mutualistic relationship with the microbes which inhabits their root zones and facilitates them in the breakdown of these pollutants to innocuous form and are either liberated in the environment or used by the microbes itself as their food.
All the lives from the simplest to the most complex has their survival directly or indirectly indebted to the self-dependent autotrophs which rule over the food chain as well as all the physical and biogeochemical cycles prevailing on this planet. Though their major source of energy is the sun, they act as the factory outlets for most of the energy circulated to different organisms co-habiting this blue planet. These vital plants follow the rule of dynamism and are concurrent in all three mediums virtually perceived as air, water and soil where life is constantly evolving from the most primitive to the most advanced forms. We have been exploiting them for food, construction, economy, cattle feed and fodder, amusement parks, gardens and many more credits to them wherein oxygen is the selfless gift we have been receiving since the time of our primitive four fathers, but apart from these attributes they have extensive role-plays in the pollution abatement and management which is the sole product of overpopulation, escalating demands, depleting resources, unmanageable pollutants, unplanned operations and dumping.
Aloe barbadensis
Aloe vera is a succulent plant species of the genus Aloe. An evergreen perennial, it originates from the Arabian Peninsula, but grows wild in tropical, semi-tropical, and arid climates around the world. It is cultivated for agricultural and medicinal uses.
• Common Name: Aloe vera
• Targeted Pollutants: Benzene Formaldehyde, Carbon dioxide and Carbon monoxide
Chamaedoreaseifrizii
Chamaedoreaseifriziismall palm thrives in shady indoor spaces and often produces flowers and small berries. It tops the list of plants best for filtering out both benzene and trichloroethylene.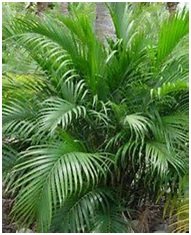 • Common Name: Bamboo palms
• Targeted Pollutants: Formaldehyde, Benzene, Carbon monoxide, Xylene and Chlorofom
Chlorophytumcomosum
Chlorophytumcomosum, often called spider plant but also known as airplane plant, St. Bernard's lily, spider ivy, ribbon plant, and hen and chickens is a species of perennial flowering plant.
• Common Name: Spider Plan
• Targeted Pollutants: Benzene, Formaldehyde, Carbon monoxide and Xylene
Sansevieriatrifasciata
Sansevieriatrifasciata is a species of flowering plant in the family Asparagaceae, native to tropical West Africa from Nigeria east to the Congo. It is most commonly known as the snake plant, Saint George's sword, mother-in-law's tongue, and viper's bowstring hemp, among other names.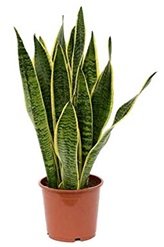 • Common Name: Mother-in-law's tongue
• Targeted Pollutants: Formaldehyde, Trichloroethylene, Xylene, Toluene and Benzene also it absorbs carbon dioxide.
Epipremnumaureum
Epipremnumaureum is a species of flowering plant in the arum family Araceae, native to Mo'orea in the Society Islands of French Polynesia.
• Common Name: Money plant
• Targeted Pollutants: Formaldehyde, Xylene, Toluene, Benzene and Carbon monoxide.
Dracaena Deremensis
Dracaena fragrans, is a flowering plant species that is native throughout tropical Africa, from Sudan south to Mozambique, west to Côte d'Ivoire and southwest to Angola, growing in upland regions.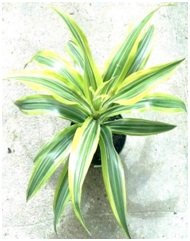 • Common Name: Janet Craig
• Targeted Pollutants: Formaldehyde, Xylene, Toluene, Benzene and Trichloroethylene
Rhapis Excels
Rhapisexcelsa, also known as broadleaf lady palm or bamboo palm, is a species of fan palm in the genus Rhapis, probably native to southern China and Taiwan. It is not known in the wild; all known plants come from cultivated groups in China.
• Common Name: Lady Palm
• Targeted Pollutants: Carbon monoxide, Formaldehyde, Benzene and Toluene.
Ficusrobusta
Ficuselastica, the rubber fig, rubber bush, rubber tree, rubber plant, or Indian rubber bush, Indian rubber tree, is a species of plant in the fig genus, native to eastern parts of South Asia and southeast Asia.
• Common Name: Rubber plants
• Targeted Pollutants: Carbon monoxide, Formaldehyde and Trichloroethylene
Dracaena Marginata
Dracaena marginata is an attractive, stiff-leaved plant with green sword-like leaves edged with red. The plant has narrow, slender gray stems that are topped with shiny, arching leaves that are sword-shaped.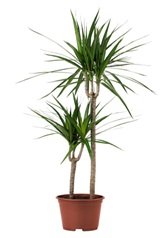 • Common Name: Dragon Tree
• Targeted Pollutants: Xylene, Trichloroethylene and Toluene
Dypsislutescens
Dypsislutescens, also known as golden cane palm, areca palm, yellow palm, or butterfly palm, is a species of flowering plant in the family Arecaceae, native to Madagascar and South India and naturalized in the Andaman Islands.
• Common Name: Areaca Palm
• Targeted Pollutants: Xylene and Toluene
These plants not only give an excess of oxygen to balance the liberated carbon dioxide but also eliminate the carbon monoxide rereleased due to incomplete combustion of fuels used to cook in our houses hence it not only improves the purity of the air in the surrounding environment but also makes it psychological healthier for the employees as well as the residents working and residing at overcrowded and dense places. Many other emitted organic air pollutants such as xylene, toluene, and formaldehyde etc. liberated from the cleaning agents, furniture and air-conditioners are also taken up by these plants and converted to non-toxic substances and as by-product oxygen is liberated.
It's no rocket science that plants are the basic oxygen pumps responsible for our survival, but they also have special features in combating the pollutants produced from the houses we inhabit. This innate mechanism theirs can be exploited to clean the air sustainably and economically. The offices which often are enclosed blocks with fitted air conditioners need a green design which can be compensated by these few plants which were studied for their successive results. Hence, it's the need of time that such an approach is encouraged in the homes as well as at our workplaces.
Authored by
Dr Hishmi Jamil Husain, Head Biodiversity, Corporate Sustainability, Tata Steel Limited