A brand ambassador is anyone who represents and endorses your company. They promote your products and services. This can happen naturally, for example when loyal customers speak highly of your company. But you can also pay for highly popular and influential people to give your brand a push.
There are two main types of influencers
By nurturing loyal customers, you may be able to turn them into brand ambassadors. You can do this by asking fans of your brand to put out a good word on social media. Usually, they are then given an offer or a free gift in exchange.
This is often highly effective. Research shows that 78% of consumers trust social peer reviews, much higher than the 14% that believe advertisements. Brand ambassadors are, in this respect, more effective when they are not being paid. If people genuinely like your products, working with them informally will give you access to hundreds of micro-influencers.
It is also becoming increasingly common for businesses to work with paid brand ambassadors. Paid ambassadors have a clear-cut transactional relationship with the companies that they work for. They will usually be paid a set amount in a contract, and in exchange will endorse and promote products and services to huge followings.
If you work with paid ambassadors, they should have a large audience. Maybe they are celebrities or have huge social media channels. They should also be relevant to your brand. Your ambassadors should be a good fit not only for the product but also for the company vision and values.
This doesn't always mean that the ambassador should be an expert in your industry. For example, PokerStars recently started a campaign with Nawazuddin Siddiqui. Although he's not a poker player, the brand created Nawaz bluff videos that explore the psychological elements of the game through the Bollywood star, while his personality also appeals to the audience.
Advantages of Brand Ambassadors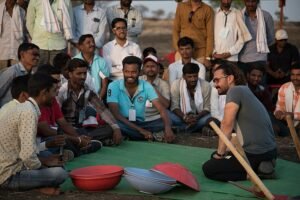 There are several advantages to using brand ambassadors. First of all, they can help you to increase brand awareness literally overnight. If you have three ambassadors, and they all have 20,000 followers on social media, then you have just gained an audience of potentially 60,000 people, all with very little money and effort.
Brand ambassadors will create buzz on social media, and this buzz might even carry itself once they have given your brand a push. For example, Aamir Khan has over 2 million followers on Instagram alone, an incredible amount of reach. He is an ambassador for Datsun India, Samsung, and others.
Brand ambassadors offer a human touch that other forms of marketing can't. This is incredibly useful for customer loyalty, especially if you run your business online and are lacking face-to-face contact with your customers. The ambassadors become a kind of face for the company and often come across as less "corporate" and more relatable for the audience.
The buzz and brand awareness, combined with trust and human interaction, makes for a successful form of marketing. But you can also utilize brand ambassadors for more than just direct sales. If your company suffers from bad PR, perhaps in the form of a review, you can quickly counteract the negative impact and reinstate a positive message.
If your company is aligned with a certain social or charitable cause, then brand ambassadors can get the message out even more quickly. In other words, they can validate your corporate social responsibility efforts.
Many celebrities are happy to become ambassadors for causes, as they can make positive change while also enhancing their own image. For example, Saima Wazed Hossain is a Goodwill Ambassador for Autism in South Asia, while Katrina Kaif represents a non-profit organisation 'Educate Girls'.
Ambassadors Enhance Brands
Working with brand ambassadors is one of the best ways to enhance the image of your company. You have to make sure that you work with the right people who can bring your product or message in front of an engaged and relevant audience. If you get it right, brand ambassadors, both free and paid, are an integral part of any marketing strategy.