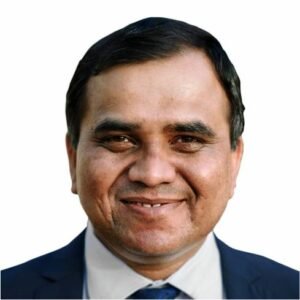 Prof. Dr. Shiv K. Tripathi, Ph.D. is an Honorary Editor of Sustainability, Education and Global Policy at India CSR Network.
He is currently Professor and Dean at IIHMR University, India, has 23 years of Indian and global experience in teaching research and education management. He also leads Humanistic Management Network India Chapter. He has been visiting faculty/ researcher to: Coventry University (UK) and Indian Institute of Foreign Trade (India) programs in Tanzania; HEC, Paris; University of Witwatersand, South Africa; ISAE, Brazil; and BITS, Pilani. As a trainer and facilitator, he has worked with a number of companies and institutions including National Thermal Power Corporation (India) and International Society for Advancement of Scientific Publications (INASP, UK). His corporate experience includes advisory and board membership roles in different companies in India, Estonia, South Africa and Tanzania including 3year advisory term at University of Stellenbosch Executive Education Limited, South Africa. Shiv has supervised 12 students for an award of Ph.D. degree in Business Management and has been a member in Doctoral thesis committee of different universities in India, Tanzania and France. He has published more than 75 articles, book-chapters and case-studies including seven books on 'Management Education, Higher Education Management and Executive Education themes. His recent book is 'Higher Education Management: Leading with Ethics and Transparency'.
Areas of Interests:
Ethics, Humanism, Transparency, Sustainability, Strategy, Supply-chains, Management Education, Higher Education Management, CSR
Contact:
E: shivktripathi@hotmail.com
W: https://indiacsrnetwork.com/dr-shiv-k-tripathi/
Updates on Dr. Shiv K. Tripathi Contributions
Mumbai: The coconut tree, often called 'Kalpavriksha', is very common in southern parts of the country. Focusing on these traditional...