ARCH Foundation reforms 4 Government schools with Digital Classrooms, Books & Activity Corner in collaboration with-Bostik India Pvt Ltd.
In the second phase of Project Umang, ARCH Foundation, in collaboration with Bostik India Pvt Ltd., an Arkema Group company based out of Bharuch Gujarat, inaugurated Digital classrooms in 3 GovernmentPrimary Schools of Jhagadia block in Bharuch district in Gujarat on 4th February 2022.
During the first leg kickoff ceremony, ARCH also inaugurated Digital Classroom in Kharchi Primary School (Jhagadia, Bharuch) on12th January 2022. The aim is to improve learning outcomes in around 400 students through a series of integrated interventions assuring their holistic development. In this series, ARCH has also created books and activity corners for children to develop an inquisitive mind, which will eventually improve their learning outcomes.
The high-spirited event was started by a ribbon-cutting ceremony by Mr. Vipul Patel, Industrial Director Bostik India, Rajesh Jani, the HSE Head at Bostik India, and Ms. Sonkee Shah, CEO, ARCH Foundation. Other dignitaries like Mr. Nirav Vyas (Process Improvement Champion Bostik Gujarat), Mr. Kunjan Bhatt (Asst HSE and Legal Manager Bostik Gujarat), Dr. Sagar (FMO Bostik Gujarat), and the project team of ARCH Foundation also graced the occasion.
ARCH Foundation working in the sector of Education for six years, has been advocating for the use of technology in the education system to reform India's process and resources in one go. With the installation of large 86 inch SMART Learning screens within schools, Umang aims to improve students' cognitive skills. The audio-video learning methodology is quick to grasp and stays in memory for a long. The government's online educational resources like Gyansetu and Diksha portal shall also be linked into these installations as connoisseurs. Teaching staff shall undertake exhaustive training programs to upgrade their capacity to deliver curriculum seamlessly through new pedagogy.
Young children can develop many skills through the power of play. They may build their language skills, emotions, creativity, and social skills. In turn, this helps them develop the ability to concentrate. While ARCH ensures the facility of essential infrastructure to keep the government students up to date with SMART Learning, they also focus on enabling an ambiance for the child to ensure Learn with Play. ARCH has also created activity corners in the school to provide children with a range of playthings that will help improvise their learning and its outcome. These playthings shall have brain games like Gujarati business, UNO cards, Monopoly, square, wooden, wired puzzle sets, building blocks, and other educational games. This shall help them to help to nurture imagination and essential skills such as problem-solving, Teamwork, Gross and Mortar skills, and much more.
Additionally, to develop cognitive skills within students while also stimulating diversified knowledge, ARCH has also created Reading corners within the schools. In the era of technology, inculcating the habit of reading within the student shall ensure enriching their vocabulary; improve their concentration, curiosity, and creativity.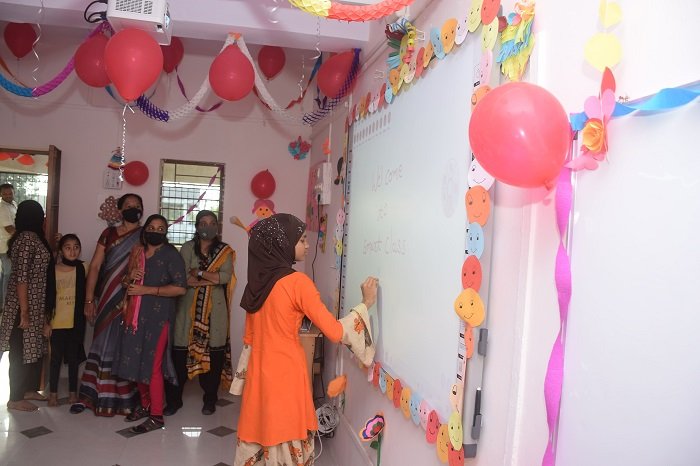 Speaking on occasion, Mr. Rajesh Jani, HSE Head Bostik India, said, "Children are allegorically considered clay that is ready to be shaped. Looking at an ant or the vast night sky, children absorb in for nation at a markable pace. For this reason, schools are fast adopting innovative learning methods to give them an in-depth understanding of concepts. While the enrolment data as per the ASER report has been ever escalating post-RTE act, low attendance and learning outcomes within children were the new grim realities. Through Umang, we have attempted to create an inviting ambiance for children to attend and learn. We aimed to provide government school children with access to e-learning and bridge the digital gap. With the installation of Activity and Book Corner, we wanted to ensure an inquisitive mind within children in a healthy body."
Ms. Sonkee Shah, Founder of ARCH, in her closing remarks said, "We do believe that for a developing nation like India, aspiring to be trillion-dollar economy in the race, the advent of advance SMART Teaching & Learning shall be a propeller in the run. As the modern world shall function and flourish only on its technological capital, it's crucial to develop resources to ace the game for India. Being the second most populated country, having the richest but under-skilled demographic dividend, we certainly have all the potential. And the need is to train our assets right from the beginning in the school and create a positive vibe 'Umang' for the future. With this one-time outlay, we are making a long-term investment to prepare children with relevant skills and knowledge to face the competitive world ahead."
(India CSR)