NEW DELHI: The Delhi Skill and Entrepreneur University and Chetak Foundation today signed an MoU to jointly develop course curriculum for Logistics and Transportation Courses at DSEU. In addition, Chetak Foundation has also announced the setting up of Jai Krishna Scholarship and Awards for the students of these domains. Speaking on the occasion, Niharika Vora, Vice Chancellor, Delhi University of skills and Entrepreneurship (DSE) said, " We are delighted that Chetak Foundation is offering Jai Krishna Scholarship awards to students pursuing Logistics and Transportation courses at DSEU. We look forward to maintain a long and fruitful relationship."
Chetak Foundation is the Corporate Social Responsibility (CSR) arm of Chetak group, a leading player in logistic, in India. The Foundation is working on improving the quality of life for under-privileged communities in the logistic space and public at large in the domain of its focus areas.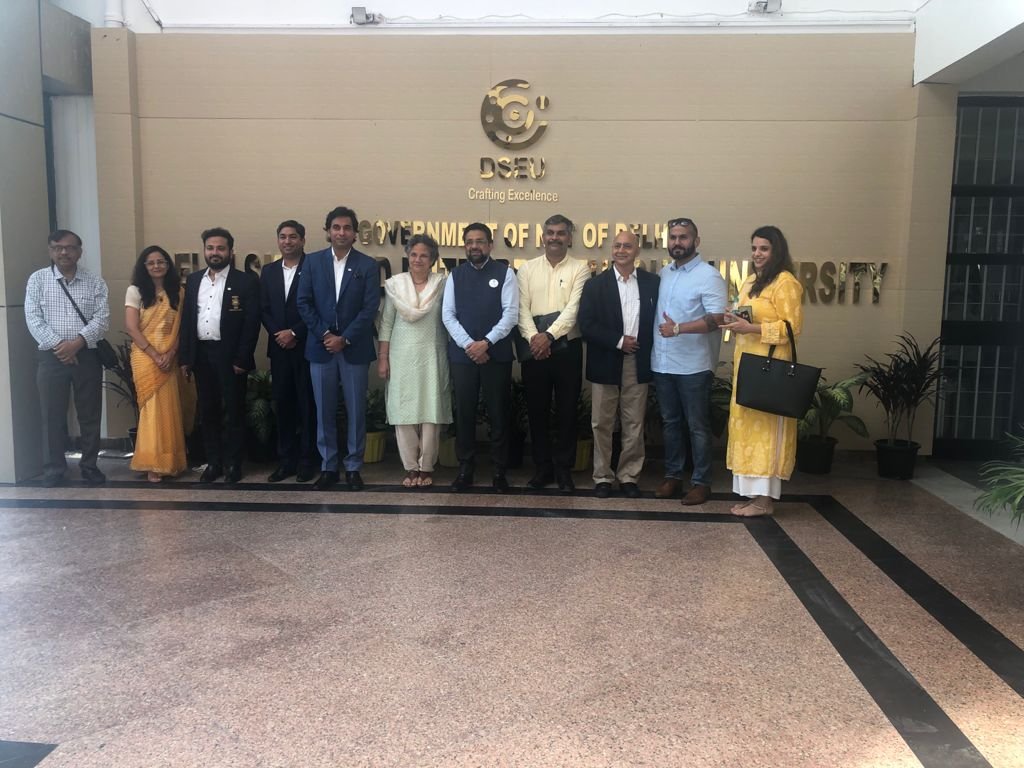 Sachin Haritas, Director, Chetak Foundation said "We are delighted to have tied up with the prestigious Delhi Skill and Entrepreneur University. Our father Late Shri J K Sharma created livelihood opportunities for thousands of people, and was passionate to help the underprivileged people in the society. To take his vision forward, the Foundation has set up 'Jai Krishna Scholarship' to help students of Below The Poverty Line and Jai Krishna Logistics Awards to recognize the DSEU students who will provide innovative solutions in the logistics domain."
Sachin further added, " We are thankful to Vice Chancellor Ms. Niharika and her team for this alliance, which will seek to make students employable through world- class skill education."
DSEU has been established by the Government of Delhi in August 2020 for Skill development and to seek employment and inculcate an entrepreneurial mindset. DSEU aims to fill the existing vacancy of skill training in the industry and provide great opportunities to the youth.
The university will offer people from all sections of the society to study here so that world class education can be available to the underprivileged sections of the society. The courses offered by DSEU will be driven by the needs of the industry and will prepare the graduates for a career.
Chetak group has vast experience in the logistic sector and to strengthen these efforts, Chetak Group on its part will provide internship and employment opportunities to the students here.
Established in 1979, Chetak Group takes pride in its long-range strategy of providing comprehensive logistics solutions to its customers. Equipped with over its own modern warehousing facilities, across India, the Group provides Total Supply Chain Solutions including Transportation Services through all modes, Warehousing & Distribution, International Freight Forwarding, Customs Clearance & Logistics Services.
The group, located in Delhi, the national capital has 60 offices and branches spread across India at major industrial hubs, in order to provide effective solutions to its customers.
Chetak Group is known for its 'On-time performance and Quality Service leading to an impressive clientele of industry leaders in automobiles since its inception. These include all major national and global automobile brands such as Maruti Suzuki, Tata, Hyundai, JCB, Kia, Honda, among many others.
(India CSR)