By Rusen Kumar
With an MD in Gynecology from Pune University, Dr. Kotbagi is a medical practitioner and a hospital administrator by profession.
Dr. Mahesh Kotbagi is the Director of Rotary International. He talked to Rusen Kumar, Editor, India CSR on World Sight Day 2021 on how people in India suffer from avoidable blindness. He says that vision impairment can have profound implications for various aspects of life, health, and the economy. It can have a negative effect on the quality of life and restrict equitable access to education and the workplace. He suggested that eye health needs to be reframed as development as well as a health issue and should be given greater importance within the country. Excerpts:
How many children in India suffer from avoidable blindness?
In India, 40 million people, including 1.6 million children are either blind or suffer from visual impairment due to uncorrected refractive error[1]. There is a lack of awareness among people from the underprivileged section that vision defects can be treated with timely intervention. correctable.
According to the World Health Organisation (WHO), most children who suffer from avoidable blindness, live in villages and tier IV cities where they don't get adequate access to eyesight screening and eyeglasses.
In the last year, the screen time for children went up several folds as students moved to e-learning platforms owing to the COVID-19 pandemic.
According to experts, extensive viewing of computer screens leads to eye discomfort, fatigue, blurred vision and headaches, dry eyes and other symptoms. Out of 100 children, at least six children, as young as three years old and up to six years have complained about having a headache. These headaches are later diagnosed as a sign of the vision condition 'myopia', or 'short-sightedness.
How has the Covid-19 pandemic impacted children in rural areas who don't have access to eye care facilities?
Poor vision can affect all stages of life, with children and older people being particularly affected. According to the current estimates, India's requirement of optometrists is 1.25 lakh, but the country has only 40,000 who are mainly located in the urban areas. The pandemic and the lockdown have widened the gap in the availability of quality eye care services, especially for the treatment of specialized eye diseases in remote areas of the country. In the last year, shortage of doctors in rural areas, temporary suspension on invasive surgeries along strict lockdowns has made patients seeking eyecare even more vulnerable. 
Patients requiring advanced procedures/treatment could not travel to the metro and bigger cities during the lockdown, with many patients deferred consultation and eventually landed up losing vision and eye.
World Bank[2] studies have shown that poor vision can impact school enrolment and learning outcomes among children. A simple and low-cost solution for most children with visual impairment is to provide eyeglasses either through school eye health programs or community -outreach initiatives.
What has been the role of RILM in addressing the issue of poor sight/ blindness in children?
Rotary India Literacy Mission (RILM) aims to improve total literacy and quality education in India. To accomplish this, RILM has designed a comprehensive program called "T-E-A-C-H" – Teacher Support, E-learning, Adult Literacy, Child Development, Happy School – each of these aspects is interlinked with the other in objective and content, accompanied with improvement in learning outcomes of primary education and boosting adult literacy.
To ensure that children suffering from poor eyesight get timely treatment and care, RILM has signed a Memorandum of Understanding (MoU) with Vision Spring, an organisation that provides affordable eyeglasses, vision screening, and training for non-profits, social entrepreneurs, govt. agencies and corporates, for conducting free eye check-ups across India for underprivileged children along with distributing 1 lakh eyeglasses.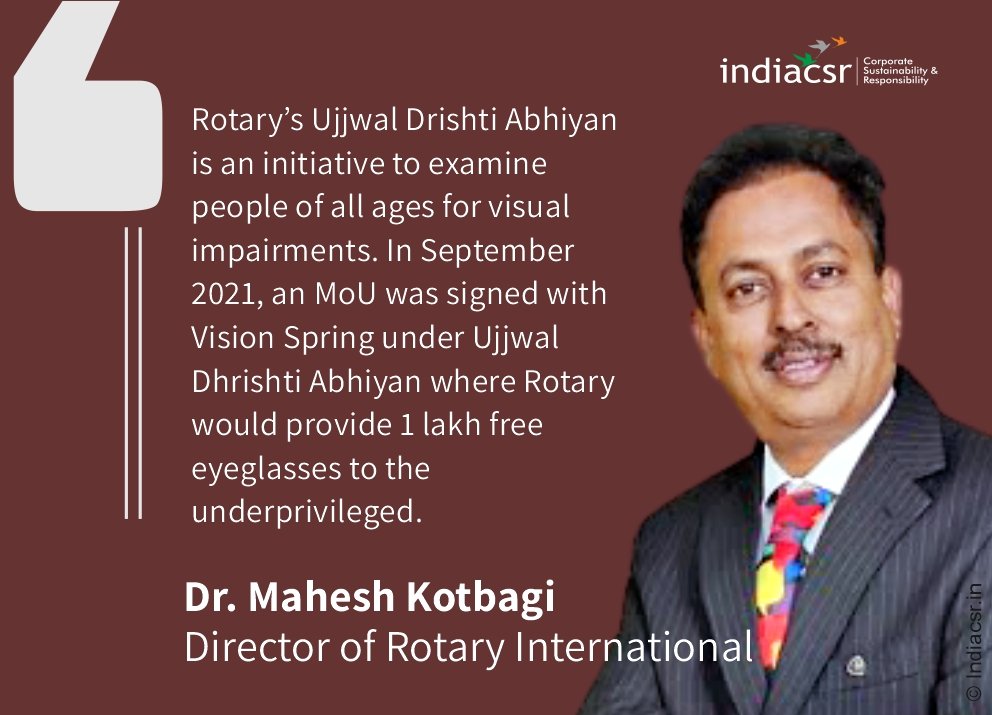 Tell us about Rotary's Ujjwal Drishti Abhiyan?
Rotary's Ujjwal Drishti Abhiyan is an initiative to examine people of all ages for visual impairments. In September 2021, an MoU was signed with Vision Spring under Ujjwal Dhrishti Abhiyan where Rotary would provide 1 lakh free eyeglasses to the underprivileged.
Rotary has around 100 eye hospitals across India. On average, every hospital conducts 25-30 surgeries per day. Children who've been screened are also being treated for squint surgeries. In adult screening, Intra-ocular lens (IOL) transplant, cataract surgeries are being conducted. All diabetic patients are also screened. For senior patients, Rotary pledges and advocates for eye donation. Rotary has set up over 50 eye banks all over India with an aim to provide corrective surgeries to eye patients.  
How many states are benefitting from this initiative?
The Ujjwal Drishti Abhiyan is a PAN-India initiative with its first phase focusing on states like Uttar Pradesh, Bihar, Maharashtra, Karnataka, Tamil Nadu, Andhra Pradesh, Telangana, Goa, Gujarat and Rajasthan. It will later be scaled up in a phased manner to the other states. Rotary is also focusing on border states/districts for screenings and treatments. We're planning to conduct screenings for 20,000 beneficiaries in J&K and Ladakh, 10,000 beneficiaries in Chhattisgarh, 10,000 in Uttaranchal in the month of November.
How will this initiative empower the underprivileged?
The initiative was founded with the premise that a simple pair of eyeglasses can dramatically improve the lives of underprivileged children by improving educational opportunities and enabling them to perform everyday tasks.
RILM, along with Vison Spring will conduct eyesight screening for underprivileged children across India and distribute glasses. The partnership between RILM and Vision Spring aims to address the problem of visual impairment, which is not just a health problem but has economic, social and educational implications.
About Dr Mahesh Kotbagi, RI Director 2021-23
He joined the Rotary Club of Pune Sports City in 1995 and served as District Governor of RI Dist.3130 in 2005-06. Dr. Mahesh has led more than 100 service projects through Rotary including a Functional Literacy project focusing on adult women in 11 villages, training programmes for thousands of teachers, cow- banks and dairy centres for under- privileged women, more than 700 polio corrective surgeries, and rural eye surgery camps for more than 20,000 beneficiaries. He has also been active in Rotary's youth programs like RYE & Rotaract.
Since then his rise in Rotary has been meteoric. He has done justice to the full range of Rotary assignments, including RI President's Representative at several district conferences, International Training Leader, Chairman South Asia Literacy Summit, Chairman Governor Elect Training Seminar (GETS), Chairman Governor-Nominee Training seminar (GNTS), Chairman Technology – Rotary Institutes and Trustee, Rotary India Humanity Foundation.
With an MD in Gynecology from Pune University, Dr. Kotbagi is a medical practitioner and a hospital administrator by profession. Being born to a family of freedom fighters and doctors, he was inspired to add the touch of social service to his professional life.
About Rusen Kumar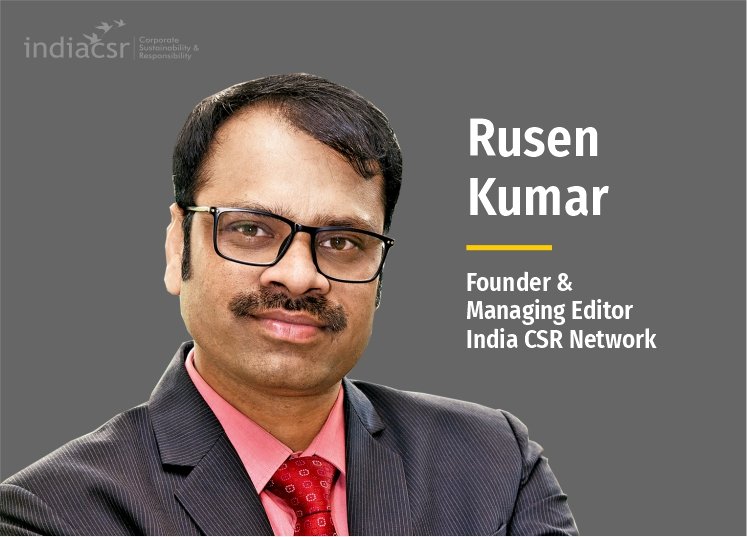 Rusen Kumar is the founder and Managing Editor at India CSR, India's largest CSR and Sustainability Media company.
(India CSR)