By Neeraj Dubey
Vibhuti Kumari, student of class 8 in Rajkiya Buniyadi Vidyalaya Manchi, Bhandari, recalls that her school only had two classrooms, and there was no furniture. Grades 6–8 had to sit together in one classroom on the floor. "It was very difficult to sit on the floor and write. Study was no fun." When students have fun, learning follows. For learning to follow, places of learning have to be stimulating and welcoming.
The school in Manchi, Bhandari (with 237 registered students as of 2020–2021) had only five rooms, of which two rooms were half-constructed and of no use. One room was used by the principal and teachers as a staff room. Students of all classes had to sit in the remaining two rooms or outside the classrooms under the trees. The rooms were constructed long ago and needed urgent repairs. Classrooms had almost no furniture, and there was no electricity in the classrooms. The school had one hand pump for drinking water, used by all the students and staff. The toilet was dysfunctional and the students had to either go home or in the open. Given the poor conditions of the school, the campus also had to cater to another school (Primary School Ward Number 11), and students from that school had to sit under the tree or with other students in the two classrooms.
Prathmik Vidyalaya Ward Number 1 of Bhandari village was also in the same condition. The school, with 130 registered students as of 2020–2021, had only four rooms of which one was used by the principal and teachers as a staff room. Students of all classes used only three rooms or the outside as a classroom in school campus. For drinking water, the school had one hand pump, used by all the students and staff. This school also catered to another primary school that had no building.
The transformation unfolds
With the objective of making the government schools of Bhandari in Sitamarhi district, Bihar, safe, healthy, and stimulating for learning, S M Sehgal Foundation in collaboration with PTC Foundation and Power Finance Corporation Limited under their CSR initiative, implemented Hamari Paathshaala (2018-2021). Under the Hamari Paathshaala initiative, two schools in Bhandari Panchayat would have intact classrooms, safe drinking water, working toilets, solar-powered energy, and digital smart classrooms. The transformations undergone in Manchi and Bhandari schools were based on BALA (Building as a Learning Aid) accreditation so that the classrooms, floors, walls, pillars, corridors, and outer spaces also act as added sources of learning. BALA surface art helps in strengthening language, communication, and math skills of students and increases their awareness of nature and the environment.
Students in newly constructed classroom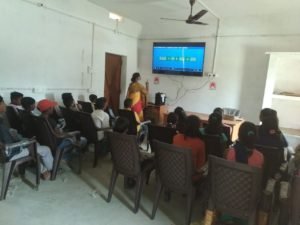 Rajkiya Buniyadi Vidyalaya, Manchi Bhandari, is now equipped with eight newly constructed classrooms and a new toilet block, including separate toilets for girl students, boy students, and teachers. Both schools now have drinking water stations and smart classrooms. Powered with solar energy, electricity is no longer a problem for the school as schools have an uninterrupted power supply at all times. Each classroom has necessary furniture such as desks, benches for students, teachers table and chair, a computer room, and others.
Sehgal Foundation under its Transform Lives one school at a time program also renovated the two, half-constructed rooms and the veranda in Rajkiya Buniyadi Vidyalaya, one room of which serves as a smart classroom for the school.
A student from grade 7 at the school shared that previously they had no place to sit, and no toilet so students had to go home. "Now we have enough furnished rooms and toilets in the school, this will make learning easy," she says.
The transformation of schools has been very beneficial for both students and teachers. Students have a better place to learn. Enough classrooms, furniture, working toilets, and smart classes all help students to stay in school longer and make learning an easy and fun process. The BALA concept uses visual art to help strengthen language, communication, and numerical skills and connect students with nature and the environment.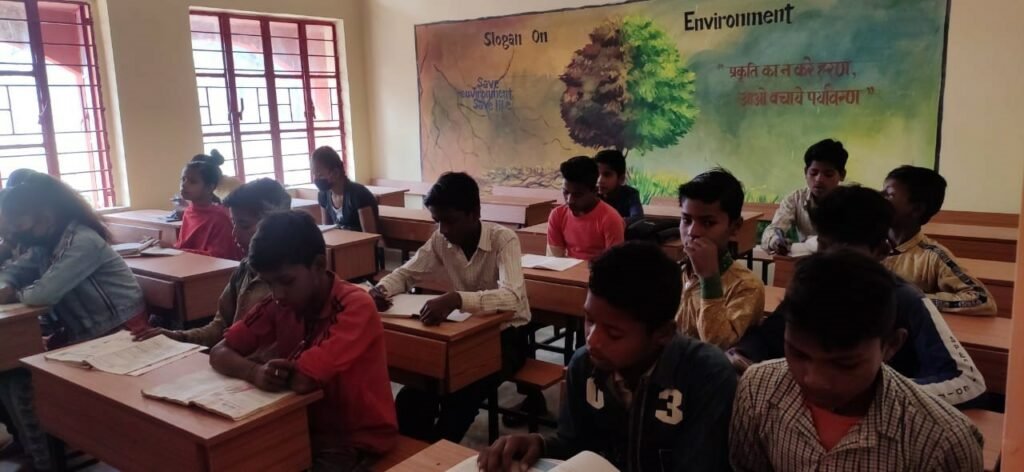 "We had never-ever imagined about having such a school in Bhandari. New classrooms, furniture, and paintings in school will attract more children in school. Smart classes will help students in understanding difficult concepts easily. Thanks to Sehgal Foundation and PTC Foundation," says Mrs Uma Devi, mukhiya, Bhandari Panchayat.
"TV par padhne me bahut maza aata hai aur samjah me bhi bahut jaldi aata hai," says Mayank Kumar, student of class 7.
Students in smart class
"Earlier it was difficult to teach all the students together. Due to so few classrooms, students from two-three classes had to sit together and many a times under a tree. The lack of toilets was a big issue for students as well as teachers. Now with enough classrooms, furniture, toilets, a drinking water station, and a smart classroom, it is fun here. Students as well as we teachers are very happy now," says Ms. Pallavi, teacher, Rajkiya Buniyadi Vidyalaya.
The principal of Rajkiya Buniyadi Vidyalaya, Mr Vijay, is elated with the improvements in the school. "With so few resources, it was not easy to run the school, we had fewer classrooms, no furniture, and no toilets. Now we have all the necessary facilities for the school. Students as well as all the teachers are very happy now."
(Neeraj Dubey is Assistant Program Lead, Bihar, with S M Sehgal Foundation)