It is rare, but real. Not one, but quite a few students left private schools to join a government run school. Located at Chithera, a small village in Dadri, the primary and upper primary school has revitalized its infrastructure—and its outlook of imparting education. As a result, the excitement among students and teachers is palpable. There's renewed hope and optimism—all around—of enjoying the journey of learning.
A year ago IndiGo adopted the school as a part of its CSR initiative. It brought in dollops of wisdom from its experience of running an airline successfully. At that time, the school's building was in a dilapidated state. Toilets were non-functional. Attendance was hardly 30 percent. The dropout rate was a major challenge.
As part of infrastructural development, the school was repaired, repainted and in some places re-constructed with necessary amenities such as drinking water facilities, toilet block, library, science laboratory and sports facilities. IndiGo introduced a modified computer lab—GetSmart Digital Mobile Bus to give students first-hand experience of technology.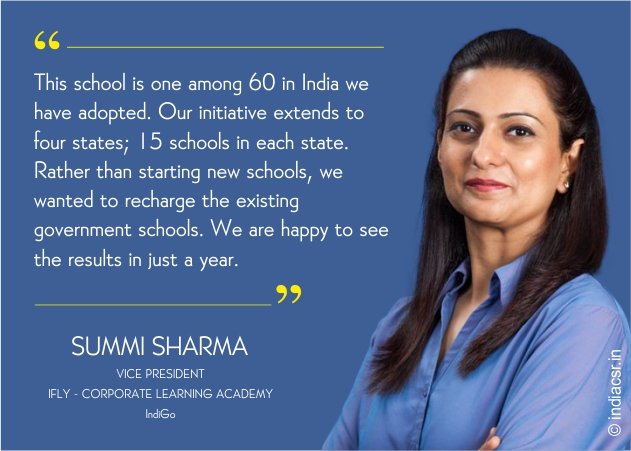 The soul of a school is teachers. Equal emphasis is given on their training programmes periodically to ensure better delivery of education, such as conceptual learning for students. Says Summi Sharma, Vice President, ifly – Corporate learning academy, who also leads CSR initiatives for IndiGo, "This school is one among 60 in India we have adopted. Our initiative extends to four states; 15 schools in each state. Rather than starting new schools, we wanted to recharge the existing government schools. We are happy to see the results in just a year."
Rajni Sharma, the school's headmistress, tells that 30 students have shifted from private schools to enrol in this school. "The course material has been a great tool for teaching these students," she says.
Instead of reinventing the wheel, collaboration from an expert entity was deployed. IndiGo partnered with SRF Foundation, NGO arm of SRF Ltd, to implement the school adoption programme. Shaqib Alam from SRF Foundation says, there is a content research team that develops 'Monthly Workbooks'. "We wanted it to be exciting for children without deviating from the NCERT prescribed curriculum. All the workbooks are designed as per the NCERT guidelines", he says.
Inderjeet Singh, one of the teachers, is shifting his two kids in this school from a private run. He says, the children love the workbooks. "We used to see books without covers. Now the children keep these books safe," he says. Every month, a child is expected to finish one work book per subject. Most important, they now enjoy doing it on their own.
Reading Club/Library
In addition to the library, a reading club has also been given shape. The club has a head student. There are reading levels for each standard. This peer reading group has succeeded in inculcating reading habits among the children. When a teacher is absent, a student from the reading club takes the class and narrates stories that the child has gathered from reading the books.
The change is visible. "There are many students here who could not even read. Now they read the books above their levels. Some students were too shy to talk, but with reading, they participate in any discussion," says Singh.
Building as a Learning Aid
IndiGo has introduced a concept called Building as a Learning Aid (BaLA) in the programme for maximising the educational utility of school building, while enhancing environmental aesthetics, facility utilisation and the overall education experience, by innovatively integrating a variety of curriculum-linked materials into the existing built environment of primary schools. "The walls and semi open space inside the school act as learning tools now", says Summi.
Infrastructure
Toilets were major issue not for the children but for the teachers as well. Girls were shy to come to school. The female staffs too were reluctant. They had to go home. With newly constructed toilets, the basic, but an important issue, has been resolved.
Drinking water was another area. "We replaced hand pumps with water taps," says Shaqib. There was a dilapidated building in the school premise. It was highly unsafe as the children used to play there. "We went to almost all the government offices. We made sure the government acts. The building was razed and replaced with a playground with swings and other equipments installed," informs Shaqib.
Experiential learning is an important part of education. But sadly, it is missing in most of the government schools. IndiGo not only set up a fully functional science lab but trained the teachers for giving practical experiences to students.
Remedial Classes
"We don't want any student to lag behind their peers. What we have designed is a 'Khel Khel Me Shiksha', a play-while- you-learn programme for children who are not coping up with others in the class," says Shaqib.
'Shaala Sakhi', a temporary teaching staff is hired from the community and trained. 45 days of remedial classes are given. Baseline and endline evaluation of the children are done. And, if the student is up to the level, he/she is sent back to the regular class. Explains Shaqib, "The children were earlier left out. Consequently, they stopped coming to school. Now they are as good as other children."
Learning on wheels
IndiGo's GetSmart Digital Mobile Bus gives students first-hand experience of technology. The bus is modified and equipped with computers and a big digital screen on the back.
Students are trained on important computer tools such as paint bush and Microsoft office. The digital screen showcases movies of interest to these children.
"Our idea of introducing the mobile computer lab was to acquaint children with the world of computers", says Rishit, who handles Mobile Lab initiative at SRF Foundation.
Community Participation
School Management Committee has been strengthened to understand and monitor the daily affair of the school. The chairman of the committee says, "We now meet frequently to take stock of the school affairs. The teachers here are very supportive and willing to talk to us about everything about school. I see a lot of change. I am planning to shift my other grand children to this school."
SRF community mobilisation team continues to meet parents and sensitises them about their children and how they can also participate in better school functioning.
Advocacy
Says Raju Sharma, Director of CSR at IndiGo, "Razing of the dilapidated building in the school compound is an example of how we don't only work for the school we adopted but also for the entire school system. There were many such schools with buildings in bad state. As a result of our efforts, the government agencies are razing all such buildings in the district."
"The government schools have the best teachers. They need adequate infrastructure, robust pedagogy, and learning atmosphere. If we are able to somehow influence how government spends on schools, we would succeed in our goals," says Raju.
Way Forward
Lack of adequate classrooms to cater to sudden influx of new entrants is a challenge. "We will write to the government officials to build extra classrooms," says Rajni. Emphasis on hygiene, sanitation and nutrition should be expanded and improved further to ensure a holistic development of children. Health and education has to go together. It would create a win-win scenario for all.
Views are personal.
Terms & Conditions: India CSR Network does not permit other Websites/Agency to copy or reproduce or reprint the above article/feature in any form or means.