Finance Minister Nirmala Sitharaman on March 24, 2021 said that the Finance Bill, 2021 has some amendments aimed at achieving a reduction in compliance and improving ease of doing business. Replying to debate on the Finance Bill, 2021 in Rajya Sabha, the Minister said it does not envisage any increase in taxation particularly in direct taxes and income tax.
"The Finance Bill, 2021 doesn't envisage any increase in taxation particularly in direct taxes and income tax. It has some amendments towards achieving a reduction in compliance aimed at ease of doing business. An approach is similar for customs and indirect taxes," she said.
The Lok Sabha had passed the Finance Bill, 2021 on March 23, 2021. The bill gives effect to the financial proposals of the central government for the financial year 2021-22. The passage of the Finance Bill by Parliament marks the completion of the budgetary process.
India has identified 6,000 burdensome compliances, both at the central and states levels, that would be eased as part of the government's plan to make it easier to do business towards 'Ease of doing business in India'. "A systematic exercise across the Centre and states is being undertaken to eliminate or reduce compliances which have an adverse impact on time and cost of businesses," Guruprasad Mohapatra, secretary at the Department for Promotion of Industry and Internal Trade, said earlier this month.
Mohapatra has said that the most compliance burdens were seen in five ministries – commerce and industry, finance, health, corporate affairs and mines.
Out of the 6,000 compliances, 1,500-2,000 are at central level and the remaining at state. The exercise would be carried out in two phases. In Phase-I, work is underway for reducing regulatory burden across six areas including renewal of licences, assigning inspections randomly, standardisation of returns/filings and digitisation and simplification of all manual records or procedures, he said.
In Phase-II, he said, the focus would be on four areas including de-criminalisation of regulations, identification and repealing of archaic laws and rules, and intensive use of new-age digital technologies. Mohapatra said to promote investments, the government is working on the creation of a single-window system for approvals and clearances. It expects to launch the system with 14 states by April 15, 2021.
The single-window system portal will integrate the existing clearance systems of various central and state departments. FDI approvals On whether the government is clearing pending foreign direct investment proposals from countries sharing a land border with India, Mohapatra said the government had not banned or prohibited investments from those nations. "There are some proposals getting approved," he said adding that the approval route was left to the concerned ministries to give clearances.
Regulatory burden on a business has a significant impact on its performance. To ensure compliance, regulations impose both time and cost and affect competitiveness of business. Regulations are an important tool for ensuring that markets work effectively and conform to trust among its participants.
They bring in the minimum threshold of acceptability and make markets work. The Government's approach is that the time and costs imposed by the regulations should be minimum. Low regulatory burden means that entrepreneurs devote their time on productive activities.
Since 2014, the Government of India has worked on creating a conducive environment by streamlining the existing regulations and processes and eliminating unnecessary requirements and procedures. Delivery of government services has been improved in several areas to help businesses grow.
A detailed plan of regulatory reforms is being implemented not only in the Central Government's Ministries/Departments but also in the States through the active engagements with State Governments.
As a result of the efforts, India's ranking on the World Bank's Doing Business Report (DBR) of 190 countries, has improved from 142nd position in 2014 to 63rd position in 2020. It has earned a place among the world's top 10 improvers for the third year in a row.
Within ease of doing business, the focus now is on reduction in compliance burden by using technology , third party assessment and faceless human intervention. The World Bank Group has been ranking economies annually since 2003 on the prevailing regulatory environment in terms of 10 indicators to publish its analysis in the Doing Business Report (DBR).
India's rank on (EoDB) during 2010-14 was in the range of 131 to 142. Hardly any effort was undertaken by the government to engage with the key stakeholders and implement a plan for improving the country's ranking.
Prior to 2014, India was accepting the World Bank's ranking of countries on EoDB as an annual academic exercise, without any specific plan for improving performance on the indicators which were relegating our country's comparative position.
India was ranked very low on trading across borders, starting a business, getting construction permits, resolving insolvency, enforcing contracts etc.
The half hearted measures to address the challenges by the Government were not bearing any significant results or alternatively, the steps taken by other countries were substantive to be recognized in the ranking arrangement.
Consequently, India's ranking among the 190 countries continued to stagnate in the bottom 25% to 30% of the countries.
To achieve the vision of the Prime Minister of India of bringing India within the top 50 countries in the Doing Business rankings, the current Government has improved the existing business regulatory environment.
An analysis of leading comparable countries was undertaken to understand the global best practices.
A detailed strategy (roadmap) was developed and 7 Ministries/ Departments were appointed as nodal Ministries/Departments across 10 indicators.
Since 2014, the aim is to create a conducive business environment by streamlining the existing regulations and processes and eliminating unnecessary requirements and procedures.
Three major initiatives are being pursued focusing on – World Bank's Ease of Doing Business, State & District Reform Action Plan and systematic approach to minimize regulatory compliance burden on businesses.
Technology has been identified as the key driver for improving efficiency. Multitude of regulatory reforms have been implemented by Central and State Governments after an extensive Government Process Re-engineering exercise to deliver seamless services to the businesses.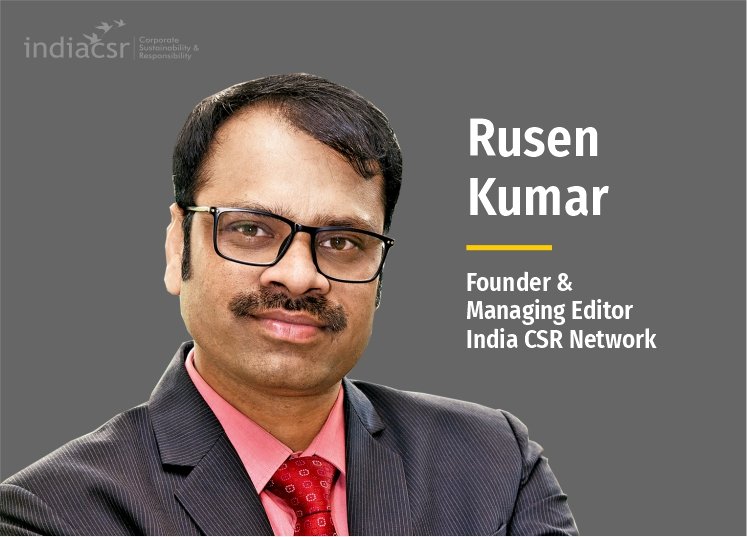 (Rusen Kumar writes on CSR, Sustainability, business affairs and responsible business. He is the founder of India CSR Network)
(A report on Ease of Doing Business in India has been published by Govt. of India in January 2021)