By Rusen Kumar
Rusen Kumar, Editor of India CSR underlines the significance of sustainability in business governance and structuring the role of the employees in achieving the sustainability goals. 
The first thing must be served first. Caring for the earth is the utmost responsibility of humans. Nurturing the earth is the final goal of humans. Employees at each worksite must report any issue that may cause concern to ecology.
Employees are inseparable assets of business organisations. Employees can play a bigger role in the sustainability journey. None of the organisations can be good in sustainability without the proactive participation of their employees. The company must outline a plan and process to engage its employees in the sustainability journey. Companies also need to incorporate sustainability management criteria into employee evaluations, so that ethical, social, and environmental values become integral parts of their business.
Fundamental of Sustainability
Earth is the mother of all resources. Earth is a trustee of all prosperity. Prosperity is the nature of the earth. Prosperity is a treasure for enrichment. Earth is first and foremost. Earth is our foremost priority. The first thing must be served first. Caring for the earth is the utmost responsibility of humans. Nurturing the earth is the final goal of humans. 
Damaging ecology and harming the environment is the biggest loss. We need to strive to minimize products' environmental footprint throughout their lifecycle. As a company we need to adhere to the philosophy of green management, designing and delivering eco-conscious products to pave the way to a cleaner future for all.
A company should view sustainability efforts as an investment for the collective future. Sustainability is all about not to torture any more the ecology. Irresponsible behaviour and practices lead to misbalancing the ecology.
Any development or progress that is not constructive should be avoided. Directionless development processes create problems. All development work should be done keeping the environment at the center. Putting man at the center of development will ultimately prove to be very harmful.
Reduce ecological and environmental footprint
Embedding Sustainability management in business function must be a ultimate part of organisational governance in a rapidly changing business environment. Companies need to incorporate sustainability throughout all phases of their products –planning, designing, producing, and selling. What I believe is that the key purpose of business sustainability is to reduce ecological and environmental footprint.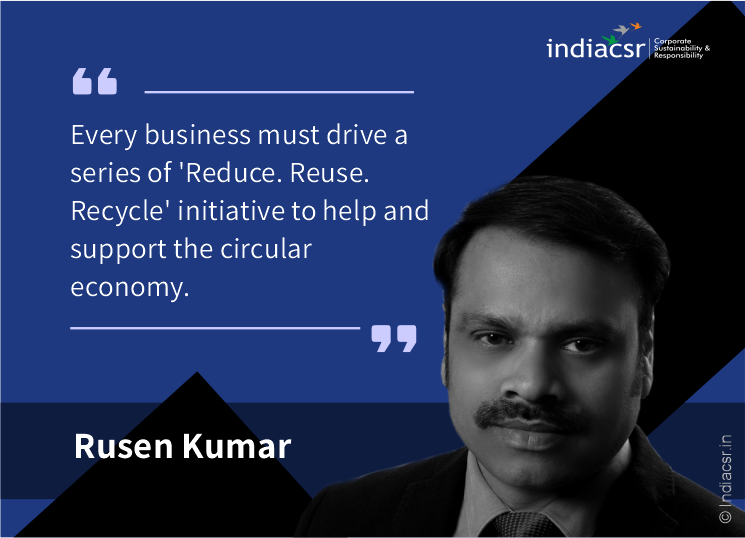 I will recommend that all companies should have a robust plan for the implementation of a mandatory sustainability education program for employees. Based on business sustainability governance, organisations strongly pursue sustainability management.
It is suggested that all employees need to have a deep understanding of the sustainability vision of their companies and be aware of their role and responsibilities, both of which should be incorporated in day-to-day work. Small change will eventually lead to genuine growth and development at the workplace.
Art of Questioning
Every employee must question himself/herself, "I can't wait to see the future of a company that considers their social and environmental responsibilities. What would they be like in the next couple of years? That is the company that I want to grow with."
Every employee must realise, "I think we should be more proactive in letting others know about – Caring the earth is the utmost responsibility of the humans."
A sustainability-minded employee thinks, "My company has strengthened its sustainability efforts in recent years, but considering the company's global influence, we need to work harder and do better."
The company's employees also think like this, "Our company has strengthened its sustainability efforts in recent years, but considering the company's increasing influence, we need to work harder and do better."
Align Thoughts & Actions
Companies must outline a goal to devote its human resources and technology to create superior products and services and contribute to a better global society. Business principles can help in creating detailed sustainability action plans, establishing the Sustainability Code of Conduct to guide the employees. Business thoughts and actions must reflect its core values and core competency as a business continue its growth and build on its contribution to society.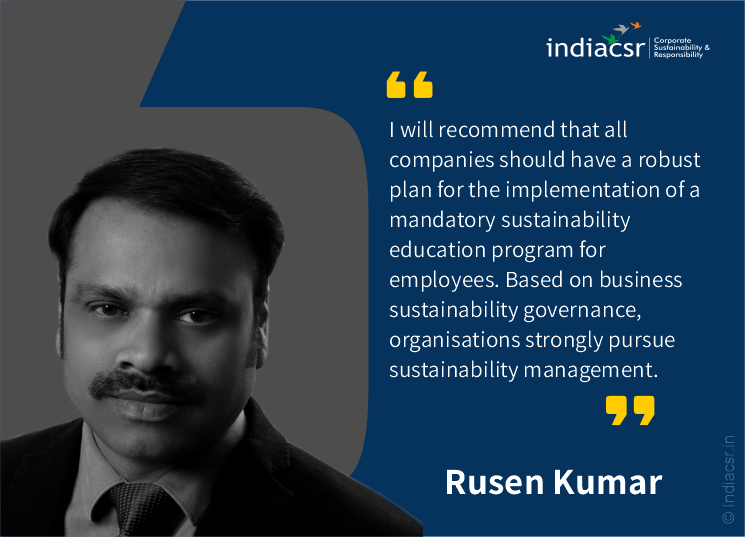 Sustainability management is a fundamental need of a company and its growth in a fast-changing unpredictable business environment. A positive approach benefits its bottom line and also enhances competitiveness and lays the foundation for a better, long-term future for all. It is time to view every effort in this way as an investment in the future.
Need of Sustainability Management Office
The Sustainability Management Office is a pillar for business sustainability management. It will strongly pursue sustainability management.
Sustainability Management Offices can be a game-changer. Sustainability Management Offices to ensure that sustainability practices are executed in all parts of the business and continue to enhance the approach to sustainability. Sustainability Management Offices discuss key strategies and activities in each business division as well as across the organization. 
An important decision is reported to the Sustainability Management Offices. Further, to build a strong compliance culture, which is foundational to sustainability management, companies need to be putting forth the utmost effort.
Targets for sustainability
Sustainability empowered companies will enable their customers to proactively contribute towards a sustainable society and environment through innovative products and seek to achieve mutual growth with key stakeholders.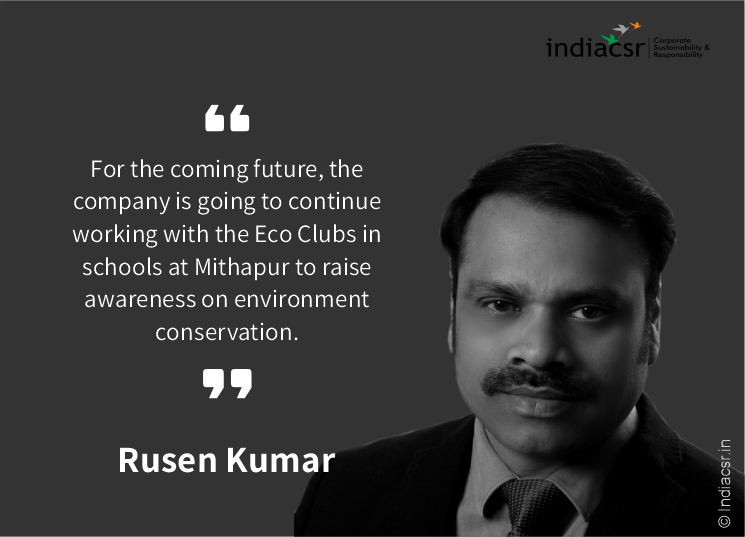 Companies need to have aggressive targets for sustainability management and while continuously working towards their goal, and continue to engage in transparent communication with stakeholders on their progress.
Circular Economy
Every company, no size matter, ought to have programs throughout the product lifecycle, to minimize the environmental impact at every phase of the value chain, including product development, raw material procurement, production, manufacturing, distribution, usage, and waste disposal. Companies are required to conduct research into potential risks and opportunities and implement proactive measures to combat climate change, which requires an immediate global response. Every business must drive a series of 'Reduce. Reuse. Recycle' initiative to help and support the circular economy.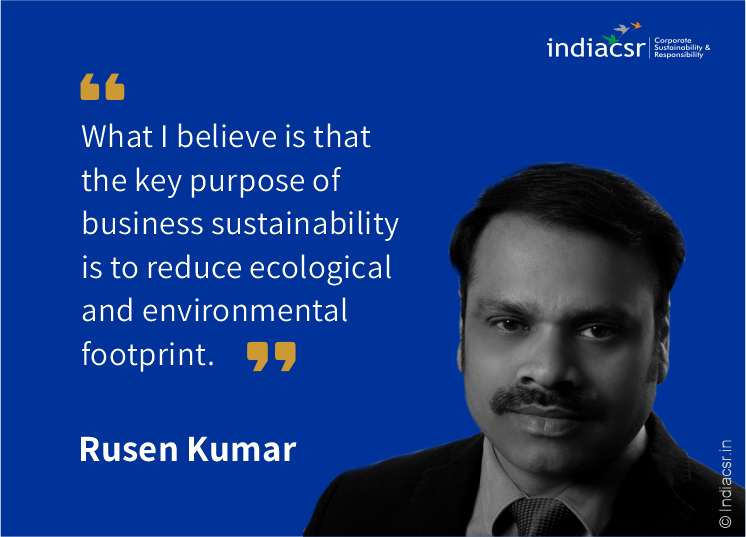 Final Words
Companies in developing economies are required to continuously track various threats, including those related to climate change, at their worksite locations around the world in accordance with their risk management process and manuals for a variety of topics, including environmental and ecological protection, energy use, and policy enforcement. Employees at each worksite must report any issue that may cause concern to ecology. Companies regularly check climate change issues and discuss further actions to be taken before relaying decisions to the sustainability governance. Companies should analyse risks and opportunities in the context of climate change and identify priority issues based on each issue's importance and impact on business, reflecting on them in the decision-making process.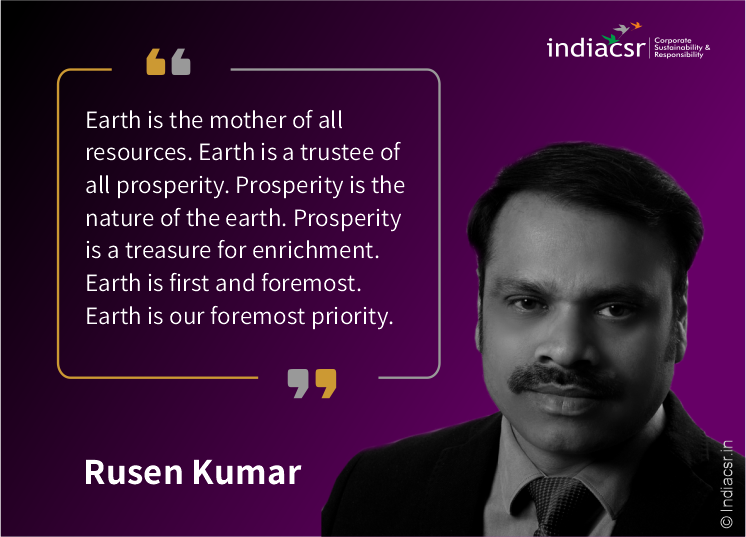 About the Author
Rusen Kumar regularly writes on CSR on Sustainability affairs. He is funder and managing editor of India CSR Network. He can be reached at editor@indiacsr.in
(India CSR)