In October, MillionICU, an initiative by Dozee, moved one step forward in building the future of public healthcare in India as 240 beds were converted into ICU in October.
The hospital beds have been installed with Dozee's contactless sensors featuring an AI-powered triaging system that enables continuous (more than 100 times per hour) and accurate monitoring of a patient's heart rate, respiratory rate, and other clinical parameters like sleep apnea and myocardial performance metrics without coming in contact with the patient.
Dozee's MillionICU initiative is a bold step towards changing the critical care infrastructure throughout the country. It offers a unique opportunity for government hospitals to use technology to quickly augment the much-required HDUs and ICUs. India's public expenditure on health as a percentage of GDP is a little over 1%, one of the lowest in the world.
Lack of medical funds and healthcare infrastructure continue to pose challenges in scaling an effective response against the current crisis. The MillionICU initiative answers this urgent need of strengthening the long-term health infrastructure and making quality healthcare available, accessible and affordable to the vast majority of the population.
Impact in October
| | | |
| --- | --- | --- |
| | Impact in October | Overall Impact |
| Nursing Hours Saved | 6685 | 28071 |
| Beds Converted | 240 | 1572 |
| Patients Monitored | 2823 | 12476 |
| | | |
| Hospitals | 4 | 29 |
The initiative will dramatically increase the number of HDUs with centralized patient monitoring in these hospitals and make critical care more easily accessible and available to the needy, even in the remotest part of the country.
India Map
Dozee has also set up a 24×7 Central Monitoring Cell which will enable healthcare staff to monitor multiple patients remotely who were previously monitored manually only every couple of hours. The central monitoring cell helps in saving crucial nursing hours and on average, Dozee saves around 30 min of nursing time per patient per day.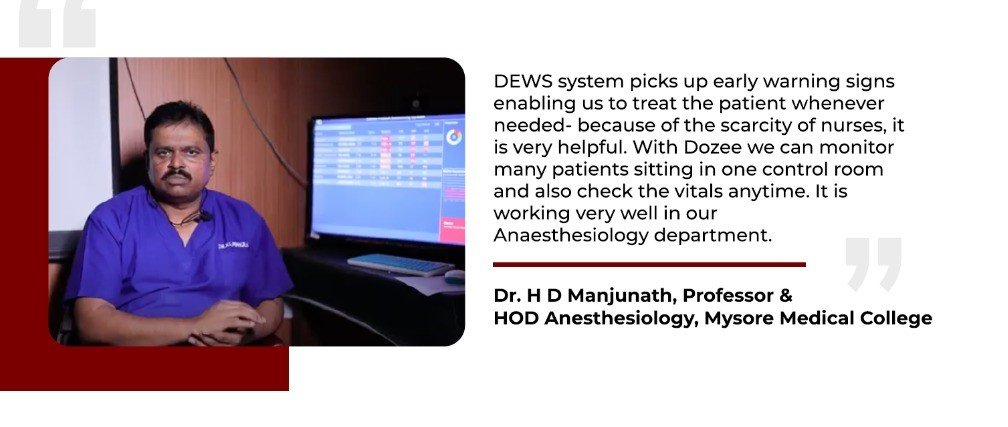 The constant stream of patient data aids the medical staff with early detection of patient deterioration and notifies the care team of any abnormalities before it becomes critical. Custom alerts can be set for every patient, helping doctors optimise treatment plans, focus on deteriorating patients and provide improved proactive care.
(India CSR)