Adaptive Physical Activities For Older Adults And People Living With Chronic Disease, It Helps in Healthy Aging.
Siel Bleu India is a social enterprise, member organisation of Siel Bleu Association, based in France. "Our goal is to provide Adaptive Physical Activities (APA) for older adults and people living with chronic diseases. It has been clinically proven world over that APA helps in older adults being mentally active, socially engaged and medically fit.", the organisation said.
"We envision a society in which everyone, starting with the most fragile, can feel better in mind and body. Health is a vital daily resource that is not reduced to the absence of disease, but to a state of mental, physical, and social well-being. We work towards providing access to innovative healthcare practices adapted to specific needs, desires, and capacities, such as adapted physical activity. And promote practices that allow everyone to prevent the deterioration of health, the loss of physical, mental, and social well-being and to take care of everyone at every stage of life.", it said.
5 Main Challenges of Older Adults and People Living with Chronic Diseases
Adapted Physical Activities Support to Overcome these Challenges
Siel Bleu India's provide the following APA to the older adults:
Adapted Physical Activities:
Resistance
Endurance
Flexibility
Fall Prevention
Memory
Communication
Relaxation
In addition to APA, we enable lifestyle changes through the following activities:
Follow ups through phone calls
Curated special activities in groups – such as walks, outdoor activities, celebrations.
Facilitate networking, speaking, sharing, and laughing to fight depression and loneliness.
Engaging family members in assisting activities.
The benefits of the APA and additional activities are as follows:
Decreased Risks of Falls
Improved Mental Health.
Improved Cognitive Function.
Prevent Disease such as heart disease and diabetes.
Social Engagement.
Criteria to undertake APAs
Recommendation by the doctor
Willingness to undertake adapted physical activity
Promise to themselves to volunteer for at least 150 – 300 minutes of moderate intensity physical activity per week, as per WHO recommendation.
Selfcare during the activities.
Siel Bleu India initiates transformational change in 5 steps:
Pre activities before conducting APAs
Assessment and Consent – Mental, Social and Health
Leisure and Adapted Physical Activities Calendar
Adapted Physical Activities (APA)
Orienting and engaging senior citizens
Social network and activities
Post APA
Follow ups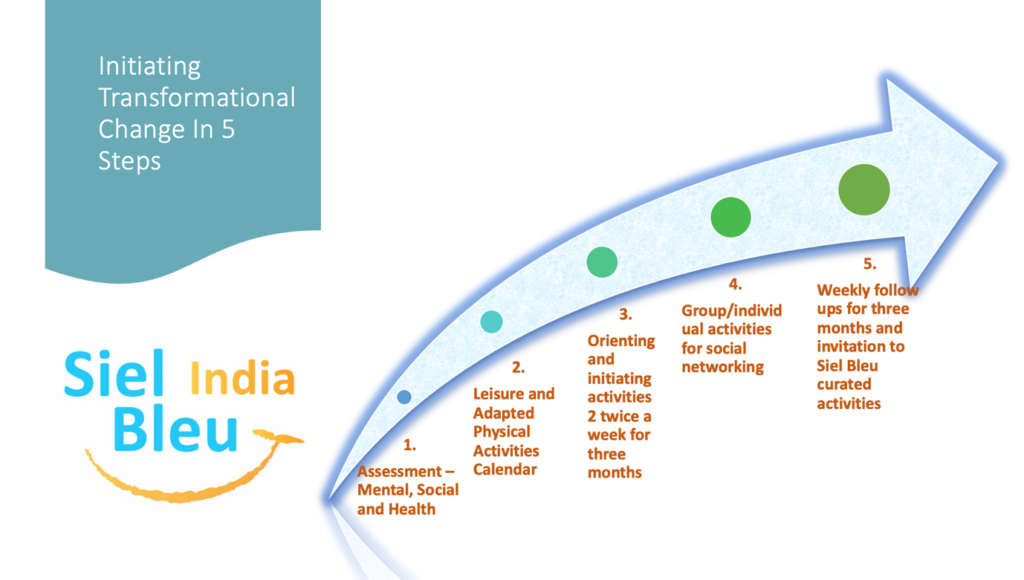 The intervention will be provided exclusively by the Siel Bleu Trainer. Its purpose is to maintain and improve the physical capacities of the elderly or in situations of frailty. It aims to repel the effects of dependence and disabilities related to illness, aging or disability. The interventions consist of physical activity classes adapted to the abilities of each individual.
It is specified that depending on the autonomy and care needs of the people, the number of participants in the session may be limited. As an indication, a group may not exceed 15 people per session.
For More Information on Siel Bleu India please contact: napoleon@sielbleu.in