Rural Rising Project 2022: Taking into consideration about the rural development scenario of the fastest developing Nation-India, rural development is crucial in this country today for uplifting the quality of life of the rural communities. This is a plan of action to reach an improved productivity, higher socio-economic equality and ambition, and steadiness in the social and economy development.
United Way of Baroda in collaboration with Ami Life Sciences Pvt. Ltd. launched Rural Rising Project 2022 in Padra Block, Vadodara which is an amalgamation of Integrated Rural Development Program focusing on holistic development of the rural communities. This project aims to work for the enhancement of rural communities in concentrating on access to Quality Education, better Health care, enhancing STEM Education, Provision of Infrastructure and Community Development.
Rural Rising Project has been implemented in two phases. The first phase of this project will be focussing on creating access to quality education for the rural students, enabling better healthcare facilities and fabricating sustainable environment to make the rural area a better place to live.
A. Access to Quality Education:
Problems of Quality Education and Lack of Infrastructural facilities remain challenges in rural schools.
4 Smart Classrooms were established at Karkhadi Primary and Secondary High School. These Smart Classrooms are modernised method of education for more than 800+ rural students of Padua Block, Vadodara to help them in better concept formation and elaboration, improvement in reading skills and academic achievement. Smart Classrooms for Secondary Education has Interactive Touch Panel, Education Software as per Gujarat Board Syllabus and Informative Educational Mural Paintings and PVC Flooring.
To cope with Digital Technology and to provide an opportunity for the rural students, An Advanced Computer Laboratory has been established along with accessories for safety measures.
Mr. Girish Chovatia- MD & Chairman, Ami Life Sciences said, "Learning is the third eye. The importance of education for the students is to lead a successful career. Taking into consideration about today's world, it is necessary for the young minds to have educational experiences, which will foster their advanced thinking skills including critical thinking and creativity. This will also nurture their passions and problem solving capabilities."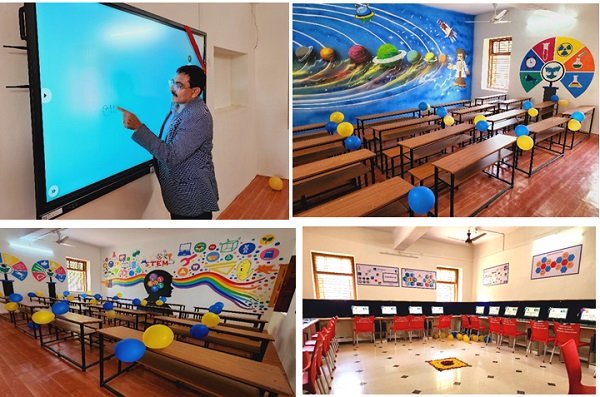 It is impossible to achieve sustainable rural development in India without investment in human capital.Promoting literacy will ultimately lead to a lower unemployment rate and higher GDP growth. Hence it becomes essential to look at design and development of infrastructure in a way that improves accessibility and effectiveness of delivery of education. Hence Education component under our Rural Rising Project of United Way of Baroda focuses on accomplishing the vision of comprehensive access of education resources and developmentof the rural students of Padra Block, Vadodara-said by Dr Binita Verdia –Chief Executive Officer, UWB.
B. Better Healthcare
A Mega Health Camp and Eye camp were arranged for the rural communities of Padra block, Vadodara to provide free health screening and awareness about preventive health and hygiene and in school for children respectively. The Check-up was done by 6 specialised doctors from renowned Hospital of Vadodara.
The Health Camp was inaugurated by Chief Guest Mr. Uday Tilawat (I/C CDHO, Vadodara). More than 390+ community took benefit from these camps. Under Eye Screening Camp 35 students were found torequire spectacles and 22 were referred to hospital for further treatment purpose.
RO Cooler Water System with Modern designed technologoy to create access to safe drinking water for the rural students as the area has 3000-7000 TDS Level was donated to the rural school
C. Sustainable Environment
It is important to create sustainable environment to preserve this blessing for the future generations. It improvises the quality of lives and also preserves the natural resources for the upcoming generations.
Solar Street Lights Under
Sustainable Environment component of Rural Rising Project, 31 Solar Street lights were installed in the entire Padra Block, Vadodara. These Solar Streetlights will reduce the risk of accidents and enhance the safety of the communities during their night-time.
4 Solar Roof Tops were installed in 3 schools and 1 at Gram Panchayat Office of Padra Block, Vadodara. This will save the expenses carried out for the electricity and these savings will be utilised for the upliftment of the quality of life of the ruralcommunity of Padra Block, Vadodara.
The inauguration of this listed component was done by Mr. Girish Chovatia- MD Chairman, Ami Life Sciences. Dr. Binita Verdia- CEO, UWB, Ms. Shivani Trivedi-Director Finance, Ami Life Sciences, Mr. Ramesh Vekaria- Director, Ami Life Sciences, Mr. Birju Mistri- Vice President,Ami Life Sciences, Trustees of school, Principal & Teachers of Secondary School,Karkhadi Village Padra also graced the event through their presence.
(India CSR)