Anshuman Das, Sector Lead, Agriculture and Environment, Welthungerhilfe is an expert in food and farm systems. He is co-developing a small-holder friendly market system for clean green and fair food—Bhoomika.
Das also conducts a course on agro-ecology with University of Calcutta and is instrumental in developing ideas of Sustainable Integrated Farming System (SIFS), Linking Agriculture and NRM with Nutrition (LANN). He shares his thoughts with Apresh Mishra of India CSR Network. Excerpts: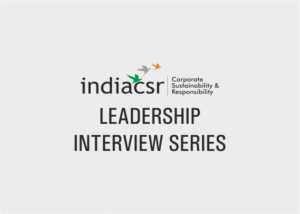 What is the state of food and nutrition security in India?
Food security only talks about the availability of the food items which is basically to fulfil the calorific requirements supplied through the Public Distribution System (PDS) and other government programmes, such as rice, and sometimes lentils.
Their lies the major challenge in basic understanding of government and other stakeholders. The fact is there is a stark difference between food security and nutrition security.
Nutrition security talks about not only the availability of cereals and pulses, but it also speaks about diverse kinds of food which is required for complete nourishment of human body. According to FAO, there are ten such food groups which are required for nourishment of a human being. This transformation in understanding from food security to nutrition security is perceived well.
One of the main reasons beneath the lack of understanding is Green Revolution. It was implemented in the 1960s due to scarcity of cereals availability, though various published information point that the issue was not in food production but the challenge was in distribution and purchasing power.
Sadly, the poor availability of production of cereals was drummed up so well that Indian government approved green revolution programmes for enhanced production of rice and wheat. The production went up with the help of energy intensive inputs like chemical fertilisers, pesticides and water.
Unfortunately, the adverse side of Green Revolution is that it has changed the Indian food completely. There is a misconception that in India rice and wheat are the only foods that are consumed, forgetting various kinds of food across the country. For instance "pahadiya tribes", who live in Jharkhand and comprise about 20,000 in numbers, are dependent on the food products that they collected from the forest and the food they were grew through the shifting cultivation.
Now they are given rice in PDS, which has spoiled their own traditional food basket and is a possible threat to their nutrition. India has better access to food, but not the same degree of nutrition.
Mere rise in agriculture production will not help unless the focus is on nutrition and impact of ecology is taken together.
How are you addressing the challenges?
We are trying to train the rural youth who can do rural trades. It would stop migration of youths to bigger towns and cities and allow them to live a dignified live in their rural surroundings in comparison to the working condition in urban places of rickshaw pullers and other daily wage earners.
Our target group is small and marginal rural farmers, who have few animals as resource and live in nearby ponds and their livelihood is actually dependent on multiple sources. We try to improve the farm as a whole.
As a result, one component is used as input for the other. The energy is recycled within the farm. The productivity of the farm improves and the farmers get the clean diversified food.
Our major thrust is to create a chain so that a farmer has work, which produces food for him and generates surplus which can be sold. It opposes the mainstream model of productivity. That is why we call this model as sustainability in farming.
The latest initiative is called "Bhoomika". It means initiation and works across the food value chain from production to market to consumption.
What measures do you intend to take to improve production?
We are trying to improve the production practices of the farmers through sustainability reformer system. Many farmers would be certified through participatory guarantee system (PSG).
This would enable them to be in a direct contact with the FPOs and market their produce in a more professional way. Food as a business could be started like starting a small ecological restaurant. Similar outlets could be set up in farmers' market. The initiative could be extended to setting up of urban gardens. This will enhance interaction of farmers and customers and thereby address the issue of diversity and food safety.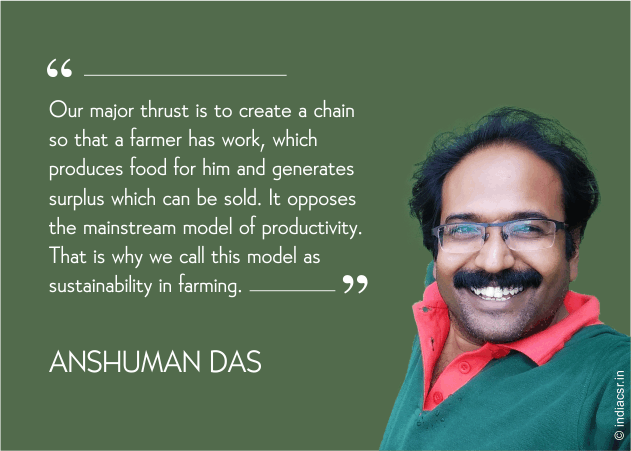 Such discussions would help inclusion of nutrition in food security. The Bhoomika initiative would be focused in the central states of India starting from Rajasthan, Jharkhand, Chhattisgarh, Bihar, West Bengal and Odisha.
This is the area where the evidence of malnutrition is high. Our programme is likely to impact 8 lakh farmer households across these states.
What should be done?
Food is an important source of energy for humans. Our survival depends on it. There's another dimension. Food is linked with nutrition and health status. It is also something which binds various stakeholders in the society like the farmers with the landowners at one end and with the consumers at the other.
Then there is the market with the middleman. If one considers food only as a commodity then one can ignore all these factors. So there lies the problem with the intention of the corporates like adding genetically modified attributes to the food.
For instance "golden rice" has more vitamin-A. The food fortification business is actually taking away the rights of the community over the food—making the producer dependent on the market.
Some 60 years ago, the farmers' family bought just salt and oil in the market and the rest of the food were grown by them. Today the rice that people grow and the rice that people buy are completely different.
Sadly, this commodification of food has been done by the government at some point of time. Now the private companies are adding extra elements to natural food, thereby making it more like a medicinal product. It threatens diversity, affects nutrition and by default livelihood of farmers.
What should we do?
We should start asking question about our food, about its source and its quality. We should encourage native farmers and their products produced through ecologically sustainable practices. We must buy from such retail outlets that keep such products—thereby support the best ecological practices.
Terms & Conditions: India CSR Network does not permit other Websites/Agency to copy or reproduce or reprint the above article/feature in any form or means.