New Delhi (India CSR): Chetak Foundation, the Corporate Social Responsibility (CSR) arm of Chetak Group, the leading player in logistics in India held the first annual meeting of its Board of Directors comprising Trustees, Directors – Governing Board, and Advisory Board Members, on the occasion of the first anniversary of its incorporation.
Prof. G Raghuram, Chairman, Advisory Board, Chaired the meeting and launched the 1st Anniversary edition of the revamped website of Chetak Foundation. The new website is more user friendly as it captures various activities targeted at beneficiaries on real-time basis, for greater transparency.
The foundation has been set up as a tribute to J. K. Sharma, Founder of Chetak Group to work on improving the quality of life for underprivileged communities in logistics and other public domains.
Prof. G. Raghuram Chaired the Board Meeting
Prof. G. Raghuram, a Distinguished Visiting Faculty and Principal Academic Advisor of the National Rail and Transportation Institute (NRTI) and former Director IIM Bangalore shared his observations as the Chair of the annual review meeting. "It is credible that the team has done amazing work in the first few months of its incorporation. Building upon our learning we now need to take a more focused approach to further enhance the impact of various interventions" he remarked.
Progress report shared by Arun Arora
Arun Arora, Head, and Director, Chetak Foundation shared the progress of various activities carried out by the Foundation during the year, planned budget, actual spending, and the impact on beneficiaries. He also shared the plans for the year 2022-23 with the Board. During the first (eventful) year, the Foundation's initiatives were blessed by senior government ministers, the Foundation tied up with VisionSpring, a Global NGO, DESU (Delhi Skill and Entrepreneurship University) and India CSR and also associated with CRPF, Delhi Metro, Indian Oil Corporation, and prestigious hospitals like Sir Ganga Ram, Fortis, and Max Healthcare" he added. Another significant initiative was the launch of the Jai Krishna Logistics Awards and Scholarship, wherein the first girl student was presented with a scholarship cheque, during the year.
The Board
The meeting Chaired by Prof. Raghuram was also attended by the Trustees, Mukesh Haritash and Sachin Haritash, Director Deepak Chauhan and Advisory Board members including Rusen Kumar, Aditya Goel, Madhurendra Sinha, Ramit Sehrawat, Kriti Mishra and Vusat Iqbal.
Ideas sharing
After the presentation, the floor was thrown open for capturing feedback and ideas from the Board Members.
Bringing dignity and respect to drivers: Mukesh Haritash
Mukesh Haritash said, "Our prime target audience (beneficiary) is the truck drivers. We need to ensure that the interventions being carried out will eventually benefit this segment, bringing dignity and respect to drivers and ensuring their welfare."
Aiming to touch one million truck drivers: Sachin Haritash
Sachin Haritash, Trustee, who moderated the discussions shared, "Our MoU with VisionSpring, a global NGO will help us target one million truck drivers over the next five years. We propose to check their eyesight and provide free spectacles for vision correction. This would lead not only to their well-being, but the same would also lead to enhanced safety on the road. He also suggested tying up with globally renowned and credible associates, going forward."
Beneficiaries data management is the key: Rusen Kumar
A member of the Advisory Board Rusen Kumar, a well-known CSR leader in India and CEO of India CSR suggested focusing on building a database of all beneficiaries, which will be of great help in the future, as we roll out more and more interventions. Rusen Kumar explained that beneficiary data management is an important task of managing a corporate foundation effectively. It is not just about numbers but it is all about knowing deeply the social and economic conditions of the beneficiary. "The more we know our beneficiary, the more effective our program will be.", Rusen Kumar emphesised.
Exposure of children of truck drivers to art forms: Vusat Iqbal
Vusat, a member of the Advisory Board and a traditional vocalist from Dilli Gharana suggested that we may look at providing exposure to the children of truck drivers to various art forms.
Meeting compliance: Aditya Goel
Aditya Goel shared the compliance milestones with the Board, as Chetak Foundation strongly believes in meeting all compliance requirements as per the norms and rules of the land.
Consider offering legal help: Ramit Sehrawat
Ramit Sehrawat suggested that we may support girls in sports and may also consider offering legal help to truck drivers when required.
Journey of the Year: Deepak Chauhan
Deepak Chauhan recalled how the Foundation was conceived by the three friends Sachin, Deepak, and Chandan, early last year and that it is a matter of pride to see it come this far and destined to go many miles.
Identify districts where most of the drivers come from: G Raghuram
Summing up, Chairman G Raghuram suggested identifying the top 20 districts where most of the drivers come from and NGOs who work in these areas and then plan to target some of those districts with our next set of initiatives.
As they say, the Charity begins at home, soon after the meeting, G Raghuram and the Directors distributed high-quality helmets to the employees of Chetak Group to ensure their safety on the road.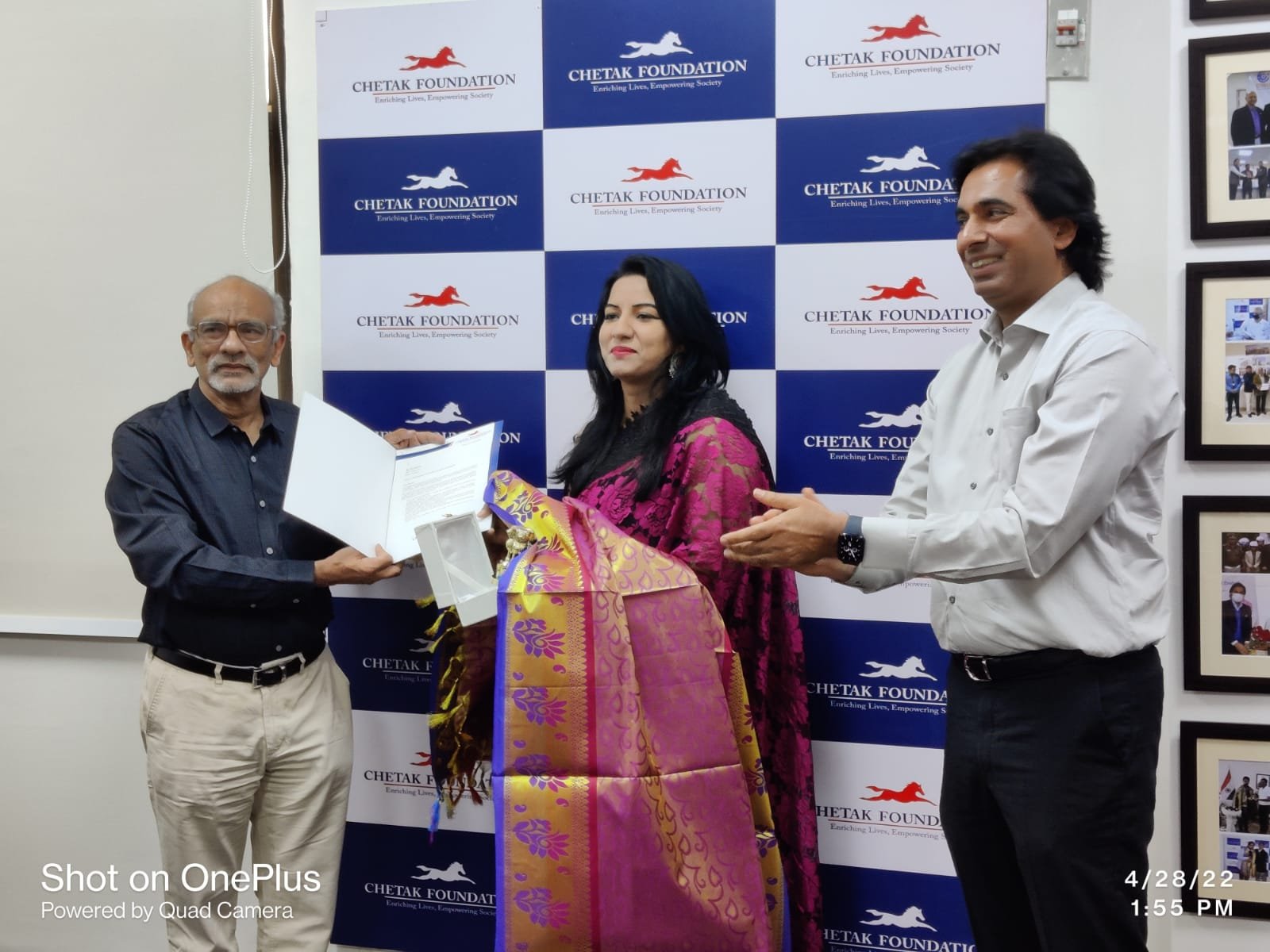 Focus areas
The Chetak Foundation's broad focus areas include Education, Livelihood, Health, safety, and Environment.
The Foundation has rolled out amazing schemes to take its mission forward like Poshan Plus (Hunger alleviation and Nutrition), Swasthya Plus (Health & Fitness), 'Siksha se Rozgaar' (Education to Livelihood), Zindagi Plus (Road safety), Oxygen Plus (Environment protection), and Sahayata Plus (Disaster/Emergency support).
Recently the Chetak Foundation has been bestowed with the CSR India's Award for Skill Development and CST Times Award for its Health Initiatives during Coved. The Foundation distributed high-quality sanitization kits to thousands of Covid front-line workers.
The Chetak Group
Established in 1979, Chetak Group takes pride in its long-range strategy of providing comprehensive logistics solutions to its customers. Equipped with over 1.5 million sqm of modern warehousing facilities, across India, the Group provides Total Supply Chain Solutions including Transportation Services through all modes, Warehousing & Distribution, International Freight Forwarding, Customs Clearance & Logistics Services.
Located in the national capital, the group has 60 offices and branches spread across India, at major industrial hubs, to provide effective solutions to its customers.
Chetak Group is known for its 'On-time performance and Quality Service. Equipped with over 24customizedsed vehicles, Chetak enjoys the impressive clientele of industry leaders in automobiles since its inception. These include all major national and global automobile brands such as Maruti Suzuki, Tata, Hyundai, JCB, Kia, and Honda, among many others.
(India CSR)